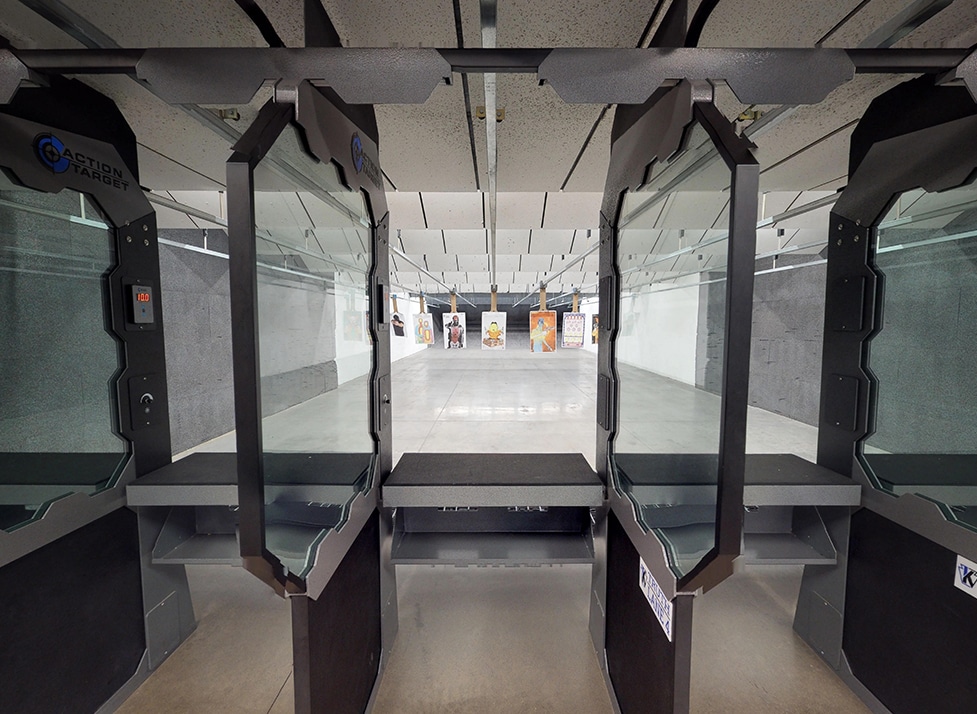 With Gun Rentals in Pittsburgh
Indoor Shooting Range
Are you a new shooter who doesn't yet own a firearm, or an experienced shooter on vacation near Pittsburgh, PA? Whatever the case may be, you can enjoy a thrilling day at your local indoor shooting range — even without your own gun — at Keystone Shooting Center.
Keystone Shooting Center is a world-class gun range that rents firearms to both members and walk-ins. We offer an extensive selection of more than 100 guns for rent, including guns manufactured by top names such as Beretta, Glock, Sig Sauer, CZ, Benelli, H&K, Smith & Wesson, Kimber, Colt, FN and more.
All rental firearms must use ammunition purchased at Keystone Shooting Center. We offer rental guns to meet the needs of nearly every member or walk-in. Choose from a wide array of calibers, types, configurations and actions for your convenience.
Reserve Range Time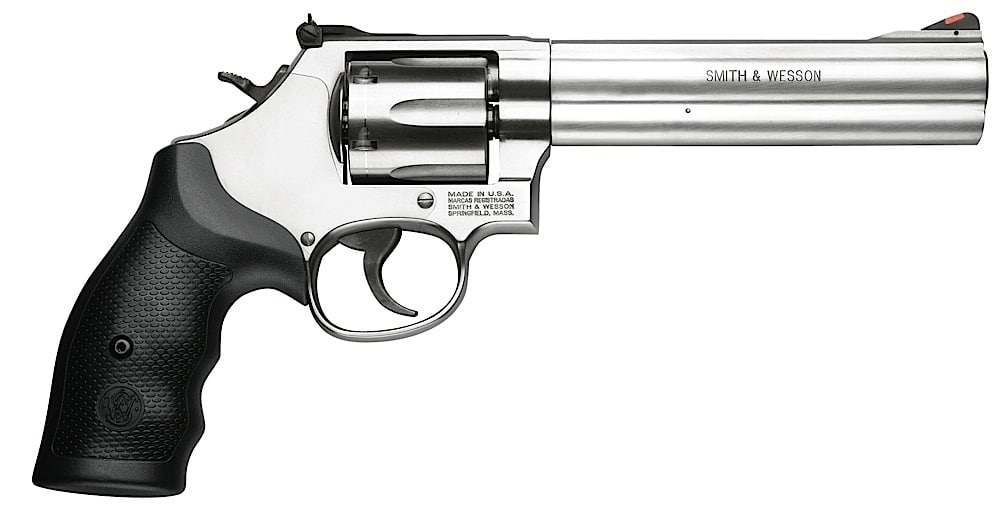 Smith & Wesson 686
Rental Price: $15.00
The Smith & Wesson Model 686 revolver is a true workhorse for both duty and sporting use. With a major effect on both law enforcement and sporting markets the 686 has become one of the most popular revolvers ever made. This revolver comes equipped with an internal lock safety, synthetic grips, stainless steel barrel, cylinder, and frame. This model has a 6″ barrel.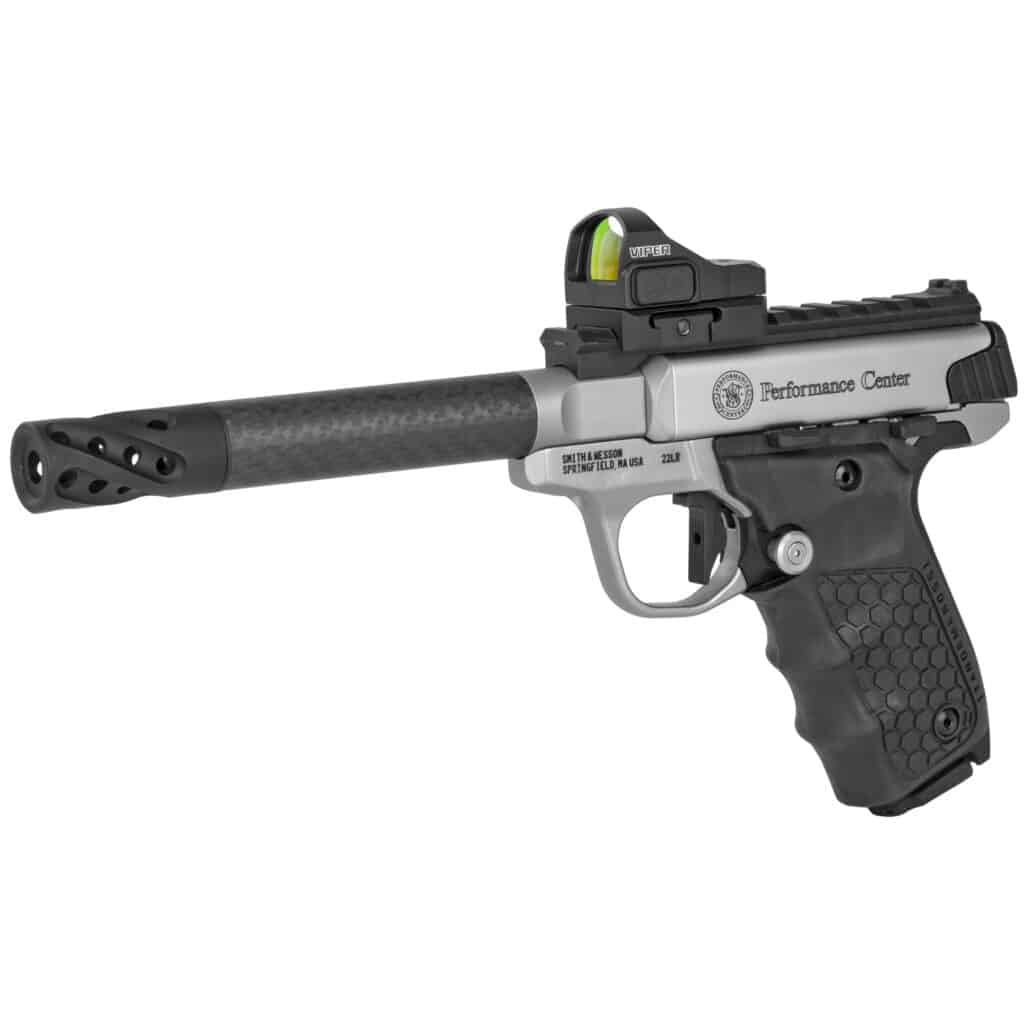 S&W PC 22 Victory
Rental Price: $15.00
The Performance Center SW22 Victory Target pistols designed specifically for target shooting competitions. It features a stainless steel frame with target barrel with muzzle brake and flat face target trigger with an adjustable trigger stop. It utilizes adjustable fiber optic rear and fiber optic front sights, extended magazine release button, beveled magazine well and steel reinforced polymer thumb safety. The SW22 Victory Target also has Tandemkross "hiveGrips" with Target Thumb rest grip and includes a Picatinny-style rail and two (2) 10-round magazines. This model has a 6″ carbon fiber barrel, stainless steel metal finish, and black grip. It also features a red dot sight.
Specifications
Manufacturer:

Smith and Wesson

Model:

Performance Center, SW22 Victory Performance Center

Barrel Type:

Carbon Fiber Target

Frame Material:

Stainless Steel

Grip:

Tandemkross hiveGrips

Includes:

Vortex Viper Red Dot Sight – 6 MOA Dot, Carbon Fiber Target, Custom Muzzle Brake, Flat Face Target Trigger, Picatinny Style Rail

Rear Sight:

Vortex Viper Red Dot Sight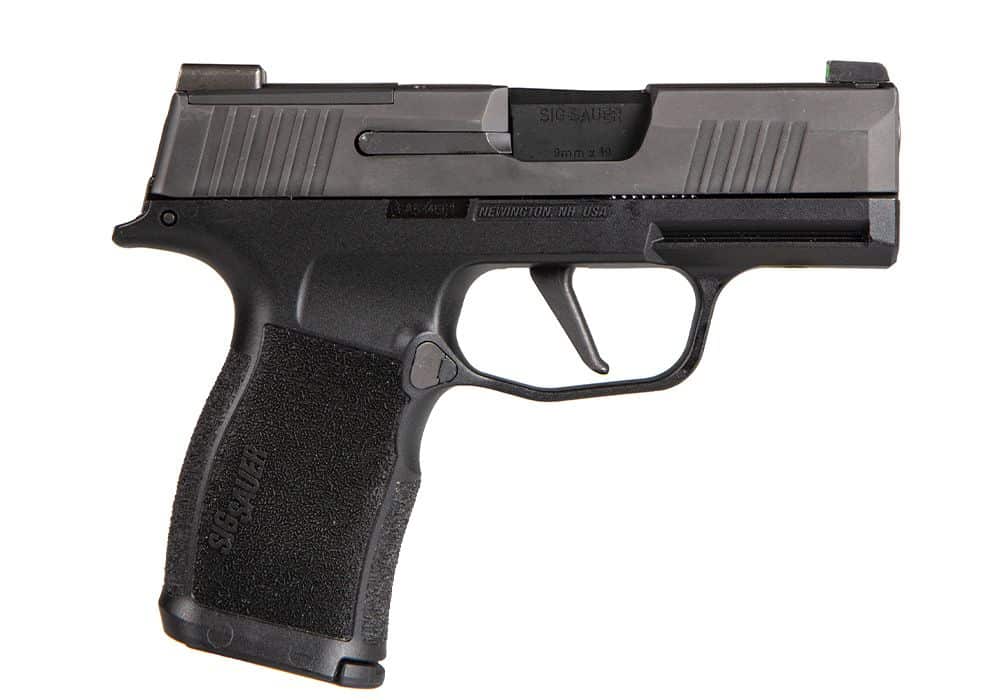 Sig Sauer P365X
Rental Price: $15.00
Featuring a 3.1 inch barrel, the XSeries grip module with a 12 round flush fit magazine brings a new level of performance to your EDC.
The P365 redefined what a concealed-carry pistol should be. Featuring a 3.1 inch barrel, the XSeries grip module with a 12 round flush fit magazine.
These features, along with the signature XSeries flat trigger, all come standard. The P365X maintains the crisp, clean P365 trigger pull. Never has so much versatility and capability been squeezed into such a perfectly concealable size.
XSERIES 365 Grip Module
Nitron Slide With XRAY3 Day/Night Front Sight
XSERIES Flat Trigger
Compatible with SIG SAUER ROMEOZero
(2) 12 Round Steel Magazines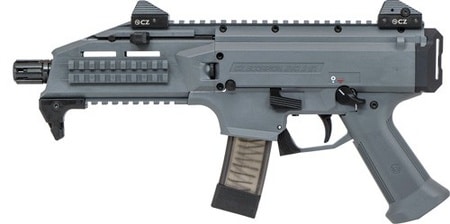 CZ Scorpion EVO 3
Rental Price: $15.00
This CZ Scorpion sub-gun is a blowback-operated semi-auto in 9mm with a 7.75″ cold hammer-forged barrel. Its muzzle features 1/2×28 threads hidden underneath the factory flash hider, meaning users can fit either 1/2×28 or 18×1 accessories to the muzzle. Equipped with low-profile sights, its rear sight has four different aperture sizes for everything from close quarters to way out there. The sights ride on an 11″ Picatinny rail perfect for mounting optics. It has a polymer frame with a QD sling swivel pocket integrated into the rear sling attachment point. Simple and reliable, the Scorpion not only has ambidextrous controls, its non-reciprocating charging handle is swappable and trigger reach is adjustable. This model has an Battleship gray metal finish.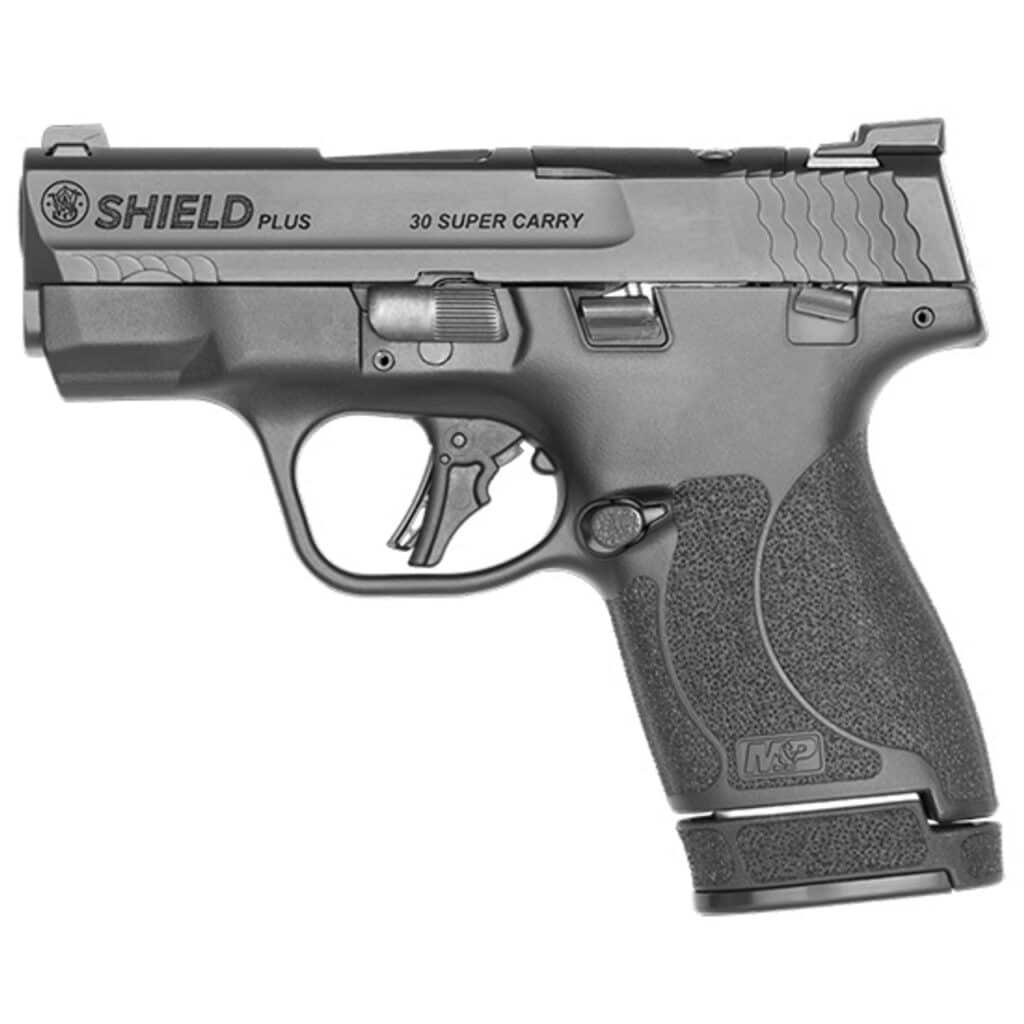 S&W M&P Shield Plus .30SC
Rental Price: $15.00
The Shield Plus is the next generation in everyday carry. It features an 18-degree grip angle for a more natural point of aim and better recoil management, plus the new at trigger allows for consistent finger placement for accurate, repeatable, comfortable shooting. Introducing the all-new 30 Super Carry from Federal the most revolutionary self- defense advancement in early 100-years. More than just an all-new cartridge, the compact design represents an entirely new cartridge engineered for absolute performance by every measure.
Action : Striker Fire
Caliber : 30 Super Carry
Barrel Length : 3.10″
Capacity : 13+1
Safety : Manual Thumb
Grips : Textured Black Polymer
Sight Configuration : Tritium Night Front & Rear
Frame Finish : Matte Black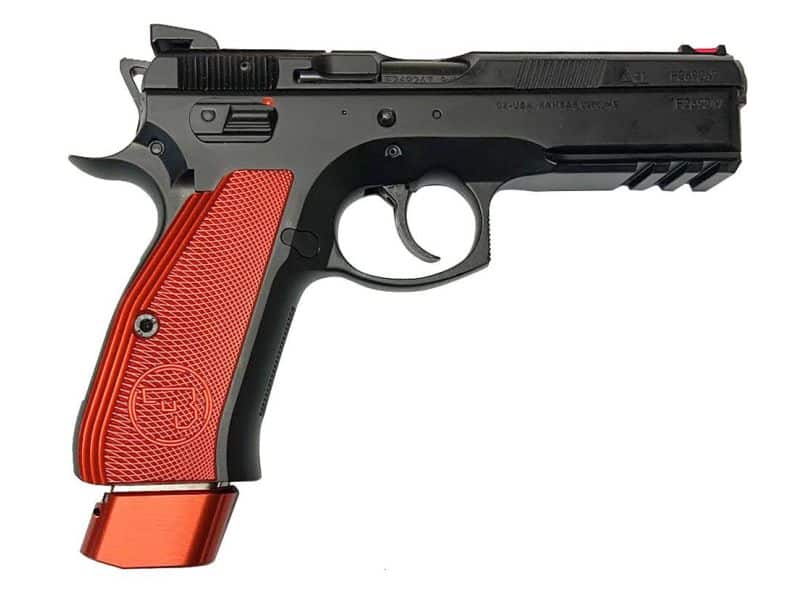 CZ 75 Red
Rental Price: $15.00
CZ's SP-01 Competition Red & Blue Pistols built on a proven lineage, adding match-ready upgrades and race-gun features that competition shooters want. This high performance pistol excels on the range and equally well at home as a defense weapon. The competition model inherits its build quality from its parent model, the SP-01, with upgraded features like aluminum grips and extended aluminum base pads for an impressive 21+1 mag capacity. The pistol includes a competition hammer giving the pistol an exceptionally crisp, light trigger pull of less than 7. 5-pounds, double action, and 3. 5-pounds, single action. Thanks to the lightened hammer spring, the pistol feels lively and remarkably responsive in the hand. Additionally, the SP-01 Competition Red & Blue uses a lighter recoil spring for running target loads.
CZ 75 SP-01 Competition Red
9mm
4.6″ Cold Hammer Forged Barrel
21rd Magazines
Aluminum Grips
Aluminum Extended Mags
DA/SA
Fiber Optic Front / Serrated Fixed Rear
41.3oz
8.18″ OAL
6.3″ Height
1.4″ Width
Manual Safety, Safety Stop on Hammer, Firing Pin Block Safety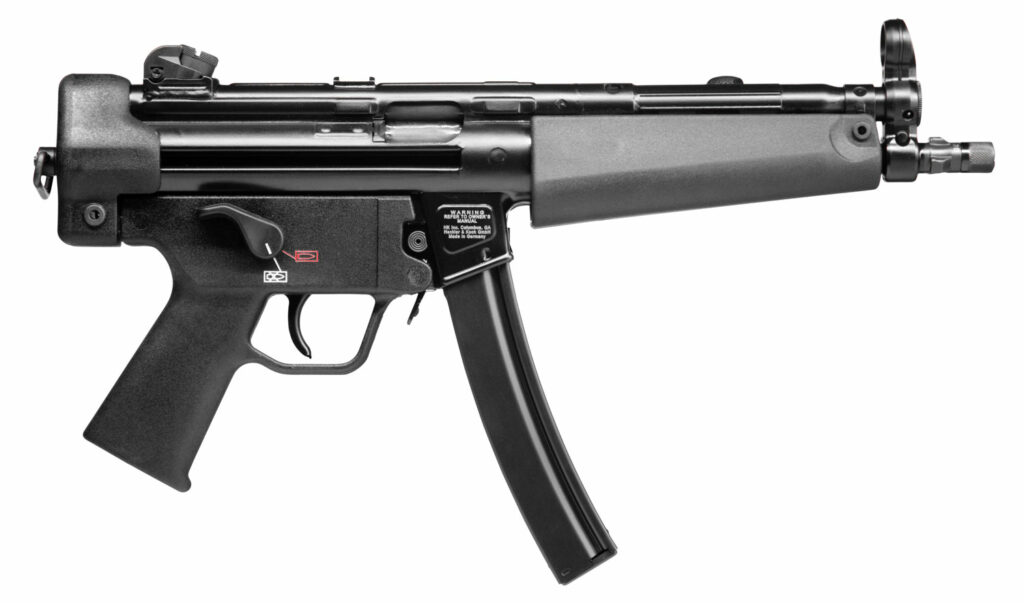 H&K SP5
Rental Price: $15.00
The Heckler & Koch MP5 is arguably the most imitated pistol-caliber carbine in the world. But even a pretty good copy is still just a copy. The truth is, you can only get a real HK from HK. And now there is finally an authentic sporting version of the MP5 in the US, and it's a real HK. The New SP5 will make all those generic MP5 copies out there look like nothing more than gun store consolation prizes.
The SP5 was developed by Heckler & Koch as a semiautomatic, civilian sporting pistol that matches the look and feel of the legendary MP5 submachine gun. Designed and manufactured to meet the definition of a civilian pistol, the SP5 is loaded with authentic features, like a Navy barrel with threaded tri-lug adaptor, paddle magazine release, and fluted chamber.
Manufacturer:

Heckler and Koch (HK)

Accessories:

Soft Case, Manual, Lock

Operating System:

Blowback

Rear Sight:

4 Position Rotary

Trigger Pull:

6.74 – 10.11 lb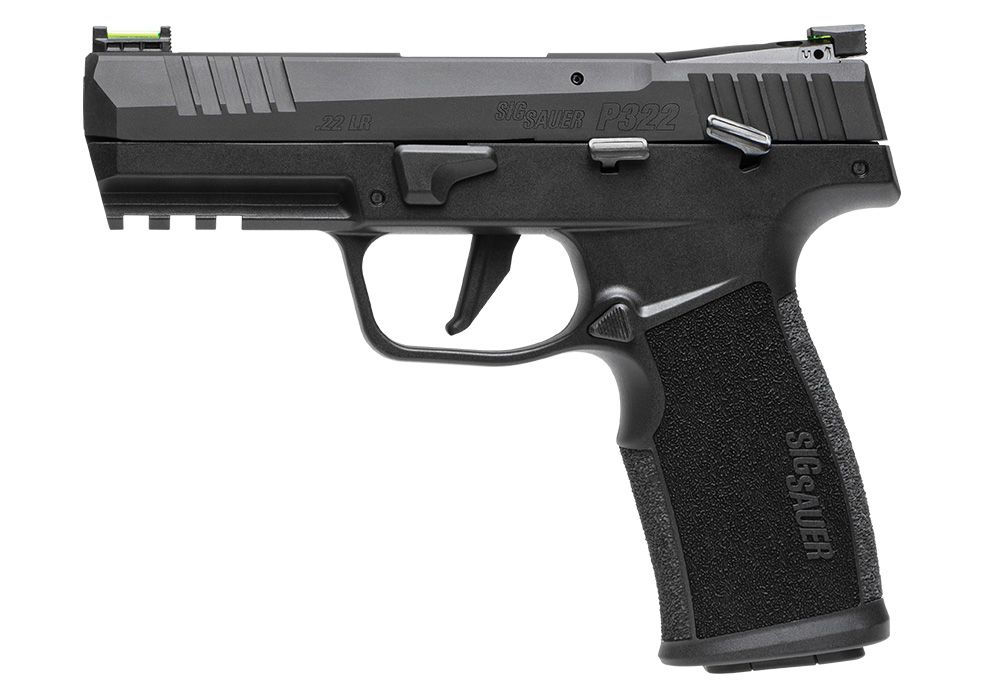 Sig Sauer P322C
Rental Price: $15.00
The new P322 was completely designed and built by SIG SAUER in New Hampshire and is loaded with premium features, including an optic-ready removable rear sight plate so you can easily add a ROMEOZero red dot optic without the use of adapter plates. The P322 also comes with a threaded barrel adapter making it suppressor ready right out of the box, and with its ambidextrous controls, interchangeable flat and curved triggers, and fiber optic front and rear sights the new P322 is the highest capacity, most advanced 22 pistol in its class.
20 Round Magazine Capacity
Optic Ready Removable Rear Sight Plate
Suppressor-Ready With Included Threaded Barrel Adapter
Interchangeable Trigger Shoes  (flat and curved included)
Fiber Optic Front and Rear Sights
Ambi Controls With Reversible Magazine Catch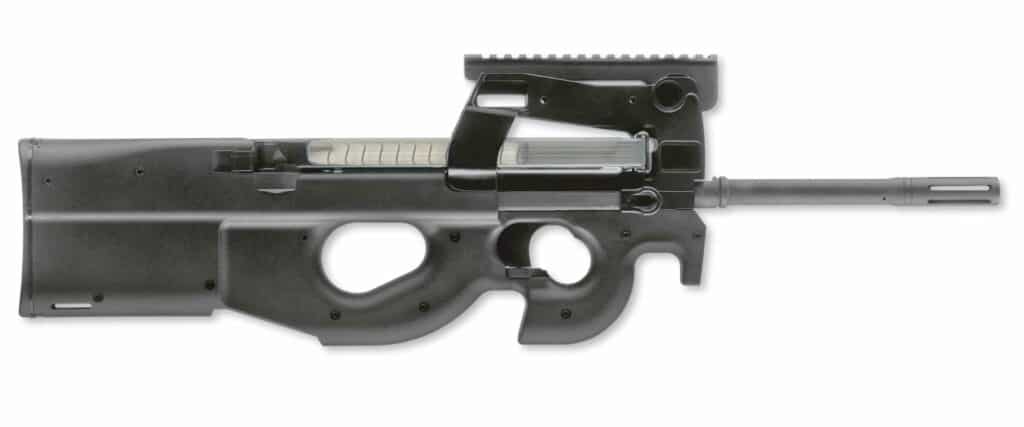 FN PS90
Rental Price $15.00
Chambered in the 5.7x28mm cartridge, the FN PS90® utilizes blowback operation and fires from a closed bolt for greater accuracy and reliability. The FN PS90®'s civilian legal 16.04″ cold hammer-forged MIL-SPEC barrel is equipped with an integrated muzzle brake to reduce recoil. Dual magazine latches, cocking handles and an innovative synthetic thumbhole stock with a molded-in sling attachment point help make the FN PS90® fully ambidextrous. Models with 10 or 30-round polymer detachable magazines are available.
Features:
Molded-in rear sling attachment point
Ambidextrous magazine release
Enlarged trigger guard
Bottom Ejection Port
Sight Tool
Forward Hand stop
Synthetic Thumbhole Bullpup Stock
Caliber
Choosing the right caliber for your needs is crucial. Your gun's caliber determines the amount of recoil you'll face, the size of your firearm and the gun and cartridge combination's effectiveness. A first-time shooter might be more comfortable and shoot more accurately with a low-recoil cartridge, such as a .22 or 9mm — although you should also take factors such as gun size and barrel length into account when finding your ideal firearm.
We offer a range of calibers to accommodate both experienced shooters and first-timers. Choose from:
.22
.357
.38
.38SP
.40
.44
.45
.454
.50
5.56
7.62/.308
9mm
Type
The type of gun you choose to practice with will vary depending on your intended use. Among our gun range rentals, you'll find:
1911: A 1911 firearm features a short-recoil, ergonomic design and slim size.
Full Size: These guns, which are the full size of the pistol or rifle, provide exceptional control and reduced recoil.
Compact: Featuring a shorter barrel and frame than a full-size weapon, compact guns are easier to carry and conceal.
Subcompact: Subcompact is the smallest type of gun available and is the most comfortable to carry throughout the day.
Carbine: A carbine is a long firearm with a shorter barrel than a rifle, offering easy manipulation.
Configuration
If you have a preferred firearm configuration, we offer an extensive selection to meet your needs. Pick from gun configurations including:
Handgun: Handguns are compact and easy to carry, even with one hand.
Rifle: Rifles have a long barrel capable of delivering powerful rounds and accurately shooting long distances.
Revolver: Revolvers are highly efficient firearms, and the right grip can fit nearly any hand size.
AR-Style Rifle: AR-15s can operate in both short ranges and incredibly long distances. They offer exceptional accuracy and high ergonomics.
Machine Gun: Machine guns deliver a large number of bullets rapidly, allowing the user to hit their target quickly.
Submachine Gun: Unlike machine guns, which use rifle ammunition, submachine guns use handgun ammunition. Many submachine guns are smaller than machine guns for easy control.
Action
We also offer both single-action and fully automatic guns for rent. Each offers unique advantages for new and experienced shooters.
Single Action: Single-action guns, which require the shooter to cock the gun between each shot, feature a shorter trigger pull that often feels most natural to new shooters.
Semi-Automatic: A semi-automatic firearm reloads automatically, although it fires only a single shot with every trigger pull. These guns are typically easier to shoot quickly than single-action revolvers.
Full Automatic: Fully automatic guns fire continually with the press of the trigger and only stop once the trigger is released.
Rentals Near Pittsburgh
Visit Keystone Shooting Center Gun Range
Whatever type, configuration, manufacturer, action or caliber you prefer, you'll find a firearm to meet your needs at Keystone Shooting Center, Pittsburgh's premier shooting range with rentals.
Keystone Shooting Center is a veteran-owned and -operated business in Mars, PA. As one of the top shooting destinations in the country, our priority is to make you feel at home in our service-oriented range.
Enjoy shooting some of today's most popular firearms — including AR-15s — in a 25-yard, climate-controlled lane. With an extensive selection of rentals, competitive prices and a range of services to accommodate both new and competitive shooters, Keystone Shooting Center offers a unique experience you won't find anywhere else in the Pittsburgh area.
Contact us at (412) 357-8000 for more information about our facility or available rentals, or stop by our facility to get started. If you're a beginning shooter, we'll be happy to help you choose the best rental firearm for your needs.
Beautiful facility with an amazing retail area. The staff is very friendly and knowledgable; the customer service was excellent. I really enjoyed the bay I used, and it's amazing how clean they keep the bay areas! Great experience for this first-time visitor. This fellow local small business owner is already looking forward to returning!
Heidi H.
view more testimonials
stay on
target
Stay up to date with everything Keystone Shooting Center has going on right in your inbox.
Hours:
Monday - Friday: 10AM - 8PM
Saturday: 10AM-9PM
Sunday: 10AM - 6PM