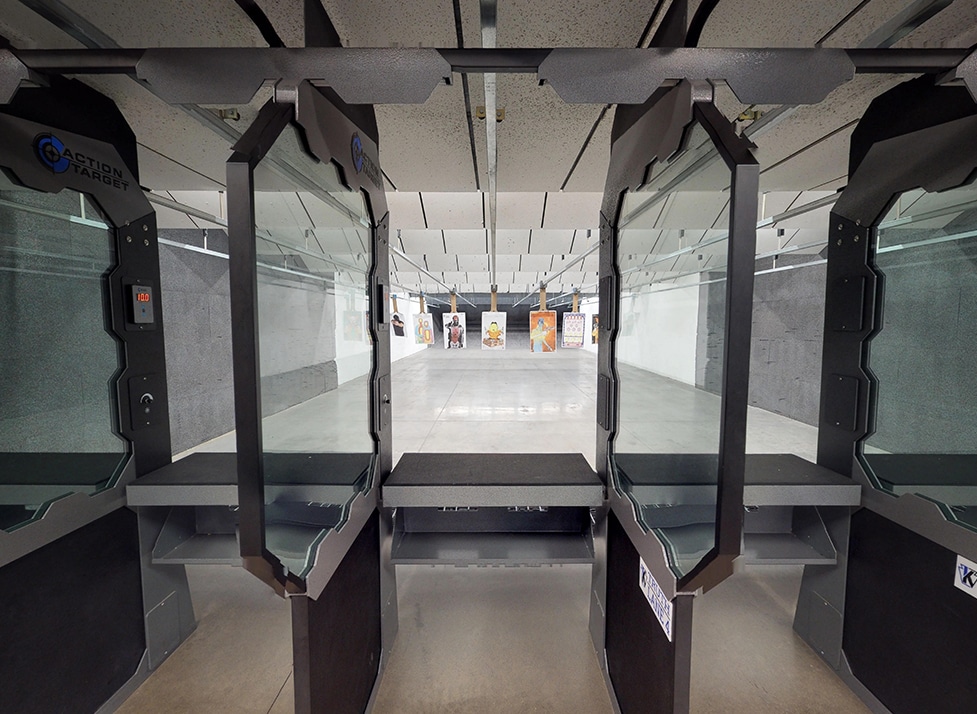 With Gun Rentals in Pittsburgh
Indoor Shooting Range
Are you a new shooter who doesn't yet own a firearm, or an experienced shooter on vacation near Pittsburgh, PA? Whatever the case may be, you can enjoy a thrilling day at your local indoor shooting range — even without your own gun — at Keystone Shooting Center.
Keystone Shooting Center is a world-class gun range that rents firearms to both members and walk-ins. We offer an extensive selection of more than 100 guns for rent, including guns manufactured by top names such as Beretta, Glock, Sig Sauer, CZ, Benelli, H&K, Smith & Wesson, Kimber, Colt, FN and more.
All rental firearms must use ammunition purchased at Keystone Shooting Center. We offer rental guns to meet the needs of nearly every member or walk-in. Choose from a wide array of calibers, types, configurations and actions for your convenience.
Reserve Range Time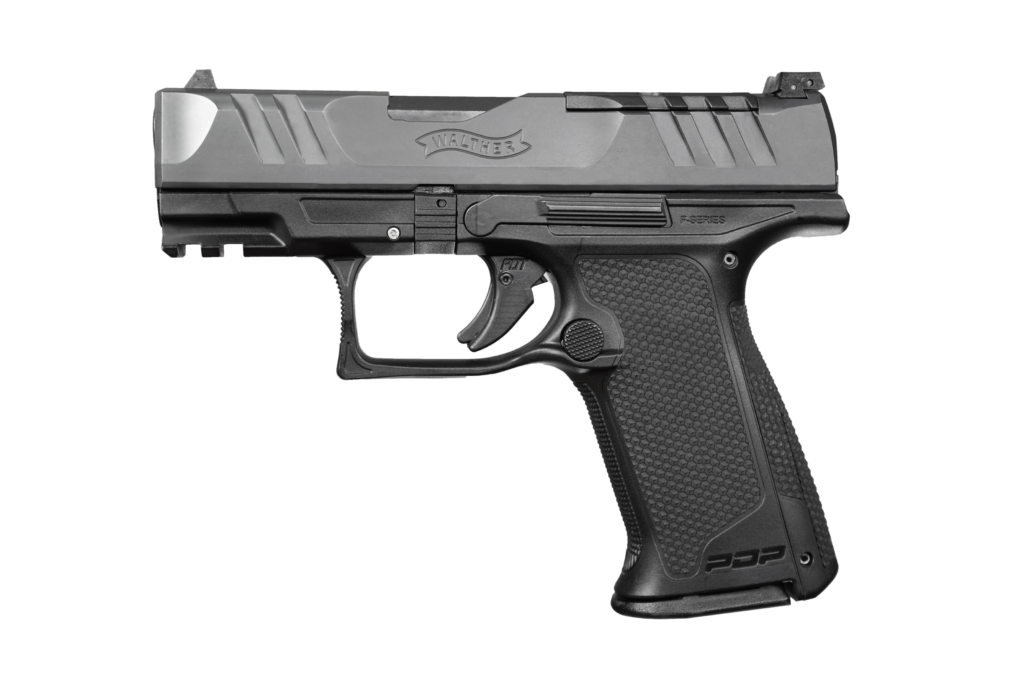 Walther PDP F
Rental Price: $15.00
Walther PDP F-Series, It's our duty to build the best performing firearm… IT'S YOUR DUTY TO BE READY. DEFINING A NEW REVOLUTIONARY ACHIEVEMENT FOR FEMALE SHOOTERS WITH WALTHER'S LEGACY OF UNPARALLELED PERFORMANCE. The same engineering passion, precision workmanship, and innovation that made Walther's PDP a groundbreaking achievement in firearms is now tailored specifically to Female shooters with the PDP F-Series pistol. The new F-Series elevates the next evolution in world-class ingenuity for pistols to meet the demands of female shooters like never seen before. Accounting for precise structural differences, Walther has completely reengineered the ergonomics of the grip to be designed for the exact biomechanics of women's hands. Featuring a new patented operating system resulting in a 20% reduction in slide rack force paired with all the performance duty features of the PDP, the F-Series pistol is the elite choice for all women. Put Walther's timeless legacy of unmatched performance in your hand today, because whether you are with your family or on your own – it is your duty to be READY!
Reduced Circumference Grip – Designed from the ground up to fit the contour of a woman's hand, the F-Series grip is smaller where it needs to be giving the shooter maximum control and faster follow-up shots.
Reduced Trigger Reach – Introducing the F-Series Reduced Trigger Reach, achieving superb trigger control has never been easier.  The F-Series trigger has been moved to a location where any hand can find the perfect trigger finger placement.  Proper trigger finger placement is a key to accurate shooting and trigger control.  You will feel the difference the moment you pick it up.
Reduced Slide Force – Walther has developed a brand new operating system that results in an unprecedented 20% reduction in slide Racking Force.  Utilizing a two-piece striker, all shooters will be able to experience the performance of the PDP with an intuitive slide rack that is as natural as it is durable.  The Reduced Slide Force is the next step in exceeding expectations for shooters who know what it takes to stay Ready.
OVER A CENTURY OF ENGINEERING PASSION & PRECISION WORKMANSHIP SPECIFICALLY DESIGNED FOR A WOMAN'S HAND. For female shooters who simply will not sacrifice on unmatched versatility, dependability, and effectiveness in both concealed carry and conventional service situations, the Walther PDP F-Series is how you stay READY.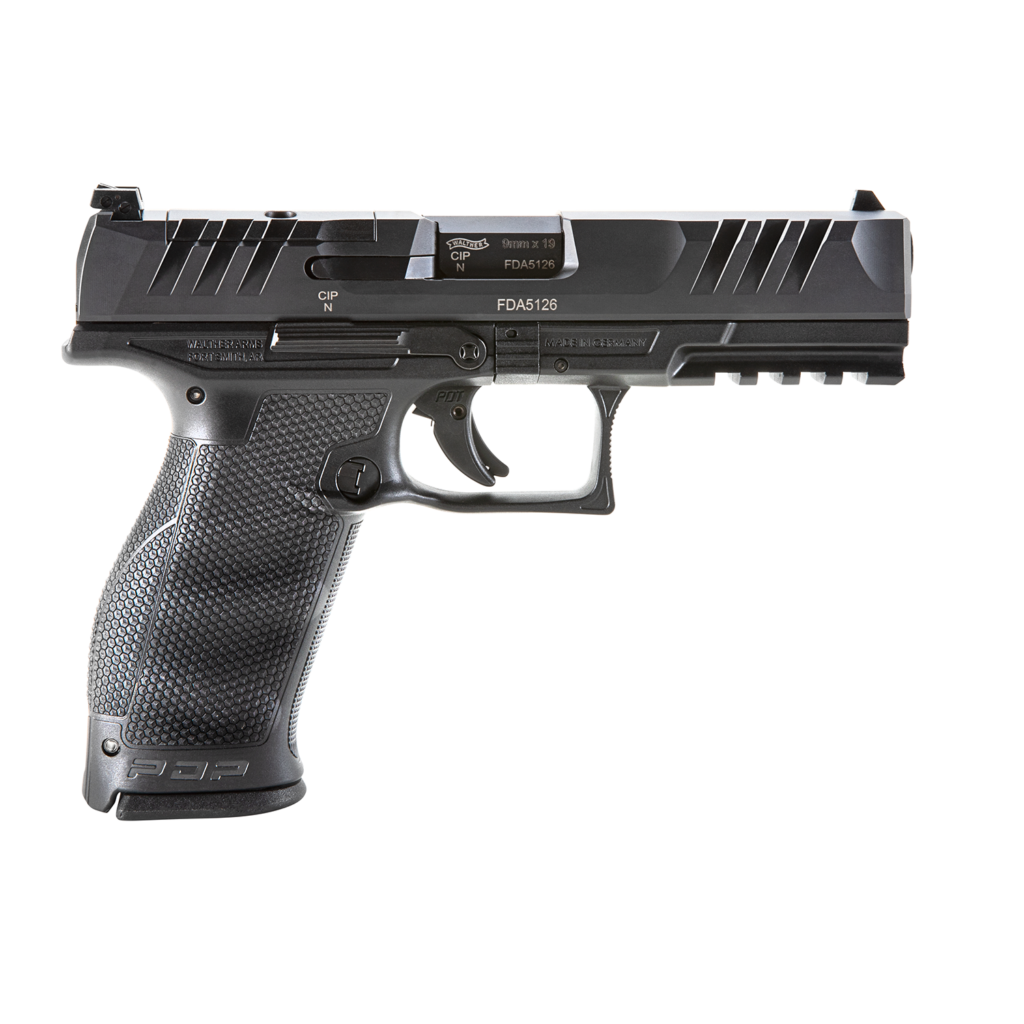 Walther PDP
Rental Price: $15.00
Walther's timeless innovation has once more achieved a breakthrough never seen before in firearms with the PDP elite handgun. Whether you are on the job or with the family, it is your duty to stay ready for any situation that may come. Now, you can do so confidently with the groundbreaking advancements afforded by the Walther PDP. With revolutionary ergonomics, SuperTerrain Slide Serrations, and a brand-new Performance Duty Trigger, this is the next evolution in world-class ingenuity for pistols.
No other handgun can put all the tools you need at your disposal like the Walther PDP. It's a handgun specifically designed to maximize readiness no matter the circumstance, and with the support of Walther's historic ingenuity, it's guaranteed to surpass all expectations time and time again. The unique design offers versatile advantages when you need them most, providing supreme performance in any condition, making this the go-to choice for shooters who demand excellence every single day.
As the ideal firearm for those seeking unmatched versatility, dependability, and effectiveness in both concealed carry and conventional service situations, the Walther PDP is how you stay ready.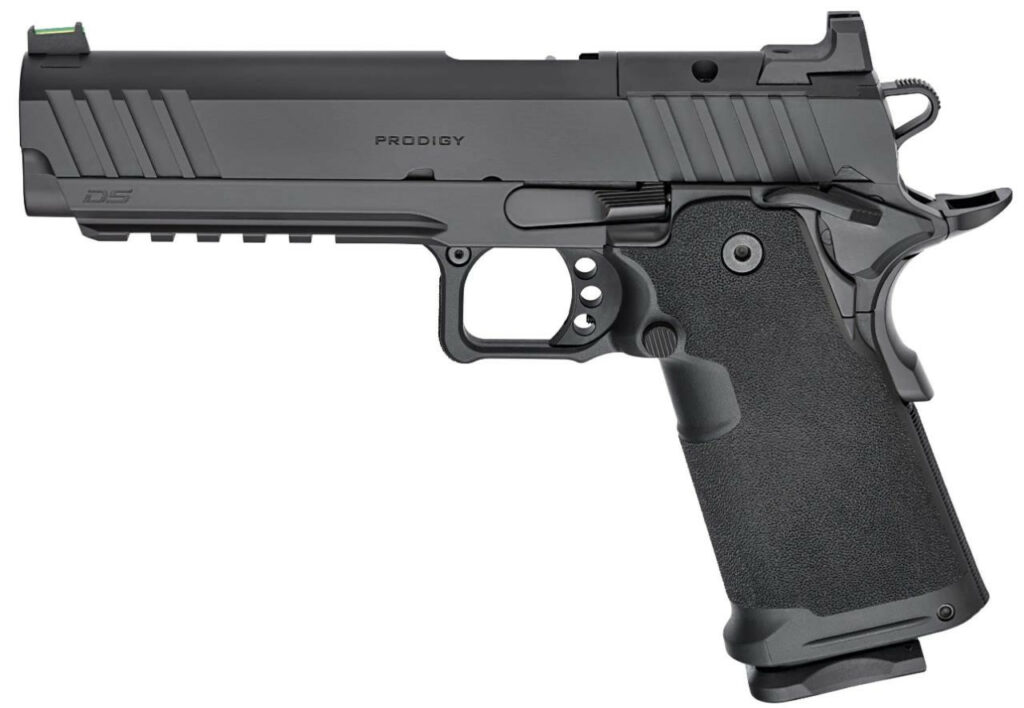 Springfield 1911DS Prodigy
Rental Price: $15.00
The Prodigy from Springfield Armory takes the proven 1911 platform and enhances it with double-stack capacity and a performance-driven feature set. Reconfigured around a double-stack magazine, the Prodigy's polymer grip module mounts to its forged steel frame offering capacities of 17+1 and 20+1. Optics ready with an ambidextrous safety and Picatinny rail the Prodigy combines the most beloved characteristics of the 1911 with modern capacity for unrivaled performance.
5″ BULL BARREL
The 5″ Prodigy features a bull barrel that allows you to not only recover quickly for follow-up shots, but also get match-grade accuracy.
DOUBLE STACK DESIGN
From its flush-fitting 17-round magazine to the extended 20-rounder — both included standard with the pistol — the Prodigy will never come up short on capacity.
OPTICS-READY
The Prodigy employs AOS (Agency Optic System) plates that accept today's most popular optics.
CALIBER
9mm
COLOR
Black
BARREL
5″ Forged Stainless Steel, Match Grade, Bull, 1:16
SLIDE
Forged Carbon Steel, Black Cerakote®, Optics-Ready
FRAME
Forged Carbon Steel, Black Cerakote®
SIGHTS
Fiber Optic Front, Black Serrated Rear
RECOIL SYSTEM
2 Piece Full Length Guide Rod
GRIPS
Polymer
MAGAZINES
(1) 17-Round, (1) 20-Round
WEIGHT
33 oz
LENGTH
8.5″
HEIGHT
5.5″

Benelli Nova Tactical
Rental Price: $15.00
Benelli Nova Tactical Pump Action Shotgun -The Nova Tactical shotgun is an all-business defense tool you can depend on. The lightweight Nova Tactical features a strong, corrosion-resistant, 1-piece synthetic stock and receiver design.
Pump-action reliability
Open-rifle sights
Steel skeletal framework over-molded with high-tech polymer
Dual-action bars
Forend shell-stop button
Gauge 12 Gauge
Barrel Length 18.5″
Capacity 4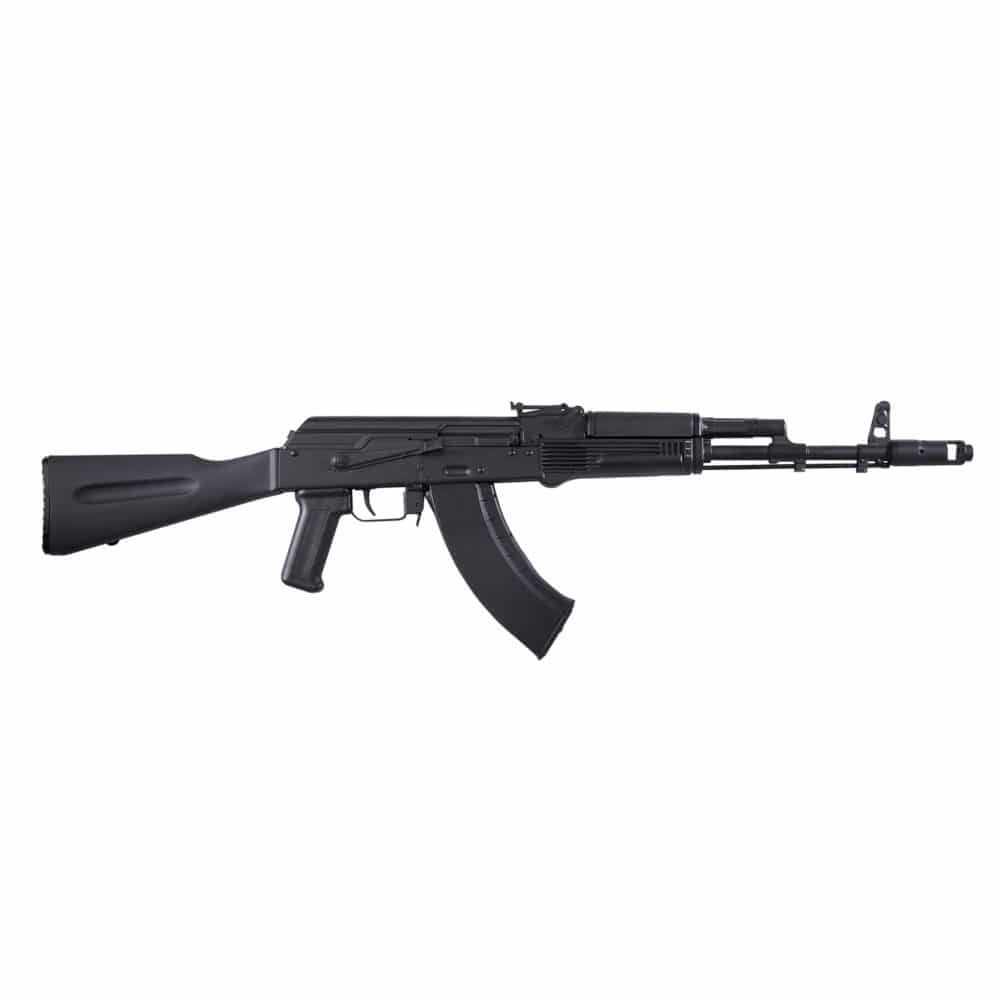 Kalashnikov KR103
Rental Price: $15.00
The authenticity and design of the Russian AK103 comes in KR-103 with the reliability of K-USA. 100% made in the US, the KR-103 is a gas-operated semi-automatic rifle with a 16.33″ chrome-lined barrel and a forged 5.5mm trunnion. It is chambered in 7.62×39mm and feeds on a 30 round magazine. The KR-103 comes with a cleaning rod, side optic rail, and a forged carrier. 
The KR103 is athletically designed to satisfy all American AK enthusiasts. It is one of the most dependable rifles on the market for any occasion: 
The only semi-automatic civilian legal version of the Russian AK 103. 

The innovative and reliable technology of Kalashnikov USA™ makes it much lighter, robust, and advanced than the earlier AKs. Proudly designed and made in the USA.

The KR-103 uses the renowned 7.62×39mm cartridges that contribute to the reliability of the AK rifles.

It comes with a chrome-lined barrel that makes it highly accurate, durable, and lasts a lifetime. Chrome lined also protects the barrel from rusting and wear and tear. 

The KR-103 is compatible with a wide range of AKM and AK-74 rifle accessories and is highly customizable. 
The KR-103 comes with one 30 round polymer magazine and a polymer fixed buttstock. It incorporates many upgrades introduced in the Kalashnikov AK-74, like the side optic rails and improved muzzle brake. The muzzle brake tames the recoil to a level of 556. It also has forged trunnion and carrier for an increased barrel life and accuracy.
KUSA ensures you get the best hands-on experience and the authenticity of the original AK with the 'Made in the US' rifle. It comes with the exact specifications of the Russian-made AK rifle. Still, it uses the parts and materials made in the US and assembled by American workers after undergoing aggressive quality control. The engineering, research, and development that created the KR 103 has helped us make it even more reliable, lighter, and robust. 
KR103 brings the same reliability as the AK 47 or the historic AKM. It performs exceptionally in every environment without any difficulties because of its durable and robust polymer finish. With this dependable weapon by your side, you can always stay protected and have a smooth hand at shooting the renowned AKs.
Kalashnikov USA™ has gone to great lengths to ensure authenticity with the original Russian specifications while using US-made parts and materials assembled by American workers in the USA.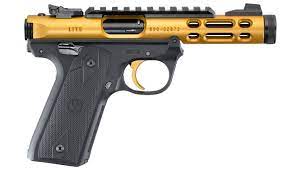 Ruger MKIV Lite
Rental Price: $15.00
Ruger® redesigned the platform of their famous 22 pistol to make the Mark IV™ 22/45™ LITE Semi-Auto Rimfire Pistol with a simple rear-mounted takedown button and a frame-mounted pivot pin that eliminate the complexities of field stripping previous models. The Mark IV pistol disassembles and reassembles easily, allowing proper chamber to muzzle cleaning. The 22/45 LITE utilizes a single-piece, aerospace-grade aluminum receiver with a ventilated barrel shroud that houses a tensioned stainless-steel barrel. The muzzle is threaded at 1/2"-28 for attaching aftermarket suppressors, and it's fitted with an aluminum thread protector. The aluminum receiver coupled with a Zytel® polymer grip frame results in a super lightweight, full-sized pistol. The top of the receiver has a Picatinny rail mount if the shooter desires to use optical sights. A manual, ambidextrous thumb safety locks the sear, while allowing the pistol to be loaded and unloaded when engaged, and a magazine disconnect prevents the pistol from firing once the magazine is removed. The Mark IV model does not have a loaded chamber indicator on the side of the receiver or an internal key lock. The Ruger 22/45 LITE is a great semi-auto rimfire pistol to carry when weight is at a premium, or for target shooting, and handgun training. Comes with two 10-round magazines.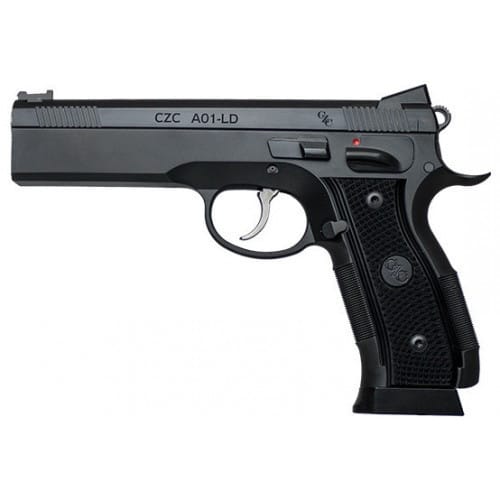 CZ AO-1 LD
Rental Price: $15.00
The Next Evolution in Performance
Built from scratch at CZ Custom, the A01 is the evolution of the famous Shadow series. The frame is hammer-forged and CNC machined with a immensely heavy dustcover to virtually eliminate muzzle rise and felt recoil. With a deep beavertail, undercut triggerguard, raised 25 LPI checkering and an internal magwell, it combines classic CZ 75 ergonomics with purpose-driven features ideal for competition. To ensure that the trigger is up to CZ Custom standards, both the hammer and the sear are directly pinned in the frame to solidify trigger pull consistency. DA pull weight is 8-8.5 lbs, while SA clocks in at 3-3.5 lbs with a tactile and short reset; all the while featuring a trigger lifted directly from the renowned CZ 85 Combat. The slide is CNC machined from 4140 bar stock and features front and rear serrations as well as CZ Custom low-mount rear sight and fiber-optic front. Featuring a 4.925″ match-grade bull barrel made from 416 stainless steel, the CZ AO1-LD can deliver accurate groups shot after shot.
Specifications and Features:
Manufacturer Number: 91731
CZ-A01-LD made by the CZ Custom Shop
9mm Luger
Double/single action semi automatic
4.925″ match grade bull barrel made from 416 stainless steel
19 round capacity
Checkered grips
Custom shop tuned trigger with short reset
CZ Custom low mount rear sight
Fiber-optic front sight
Steel frame
Ambidextrous manual safety
Deep beavertail
Undercut Trigger guard
Internal magwell
Takes CZ-PO9 Magazines
Overall length 8.6″
Weight 51.2 oz
Blued steel slide finish, blued frame finish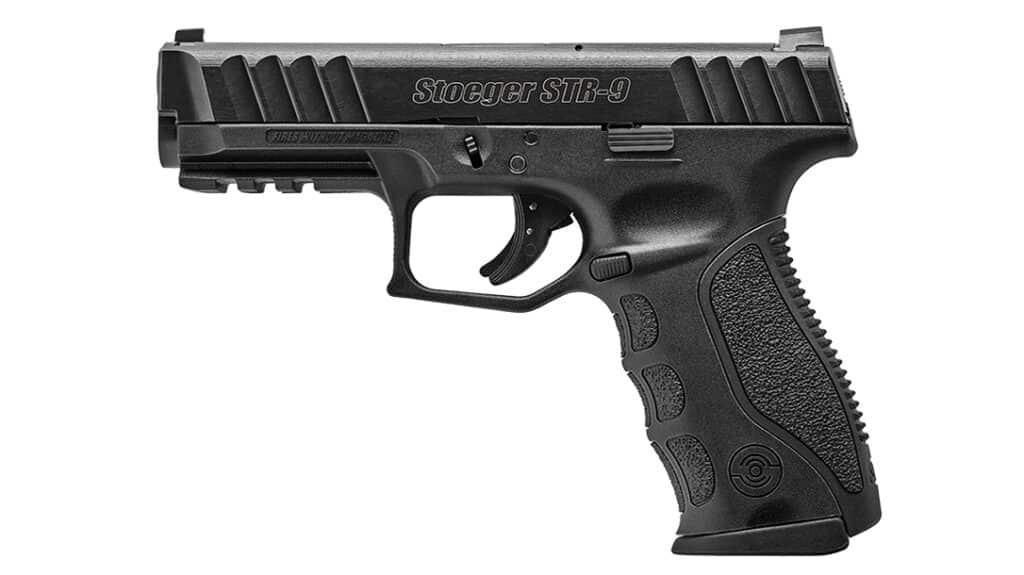 Stoeger STR-9 Optics Ready
Rental Price: $15.00
The Stoeger® STR-9 Semi-Auto Pistol utilizes a striker-fired mechanism and outstanding ergonomics to deliver rapid shots with unfailing reliability. The polymer frame features aggressive texturing, thumb groves, and an under-cut trigger guard to provide a non-slip hold and position the shooter's hand close to the bore axis for enhanced control and quick follow-up shots. An integral Picatinny rail provides for attaching aftermarket tactical accessories. The trigger breaks cleanly, and it has a tactile and audible short reset. A safety lever in the center of the trigger prevents the pistol from firing unless the trigger is intentionally pressed in the center and pulled all the way back. The Nitride-finished slide features aggressive front and rear serrations. Dovetailed, drift adjustable 3-dot sights are quick to acquire in varied light conditions. The Stoeger STR-9 Semi-Auto Pistol field-strips easily. Comes with 1 magazine and 1 interchangeable backstrap.
Striker-fired operation
Textured polymer frame
Outstanding ergonomics
Interchangeable backstrap
Dovetailed, 3-dot sights
Nitride-finished slide
Trigger lever safety
Low bore axis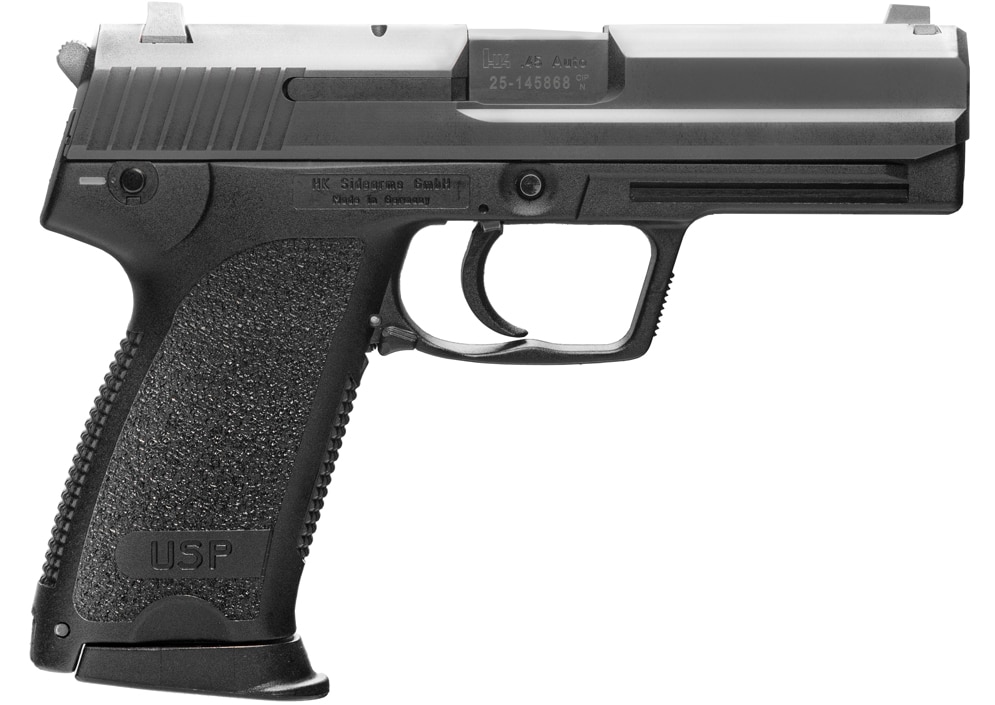 H&K USP V1
Rental Price: $15.00
Originally designed for the American market, the USP (Universal Self-loading Pistol) has found international acceptance as an accurate and ultra-reliable handgun. Features favored by U.S. law enforcement and military users provided much of the design criteria for the USP. The controls are uniquely American, influenced by such famous designs as the Government Model 1911 pistol. All USPs use a fiber-reinforced polymer frame stiffened by stainless steel inserts at areas subject to stress and friction. HK pioneered this use of polymer materials in the production of handguns more than 30 years ago with the development of the VP70Z and P9S pistols. The USP control lever, a combination safety and decocking lever, is frame mounted and quickly accessible, unlike the slide-mounted safeties common on many semi-automatic pistols. Using a modified Browning-type action with a special patented recoil reduction system, the USP recoil reduction system reduces recoil effects on pistol components and also lowers the recoil forces felt by the shooter. This same recoil reduction system has been tested and proven in the HK Mark 23 pistol developed for the U.S. Special Operations Command. The USP recoil reduction system is insensitive to ammunition types and requires no special adjustment or maintenance. It functions effectively in all USP models. The modular design of the USP's internal components allows the control lever function to be switched from the left to the right side of the pistol for left-handed shooters. The USP can also be converted from one type of trigger firing mode to another. This includes combination double-action and single-action (DA/SA) modes and double action only (DAO) modes. The USP is available in nine trigger/firing mode configurations and three calibers. 9mm, .40 S&W and .45 ACP.
Features:
Corrosion proof fiber-reinforced polymer frame
Polygonal bore profile for increased velocity, easier cleaning, and longer barrel life
Can be converted to any of nine trigger firing modes
Corrosion resistant "Hostile Environment" blued finish
Oversized trigger guard for use with gloves
One piece machined slide made from nitro-carburized steel
Universal mounting grooves for installing accessories
Ambidextrous magazine release lever
Extended slide release
Patented Lock-Out Safety device
Caliber
Choosing the right caliber for your needs is crucial. Your gun's caliber determines the amount of recoil you'll face, the size of your firearm and the gun and cartridge combination's effectiveness. A first-time shooter might be more comfortable and shoot more accurately with a low-recoil cartridge, such as a .22 or 9mm — although you should also take factors such as gun size and barrel length into account when finding your ideal firearm.
We offer a range of calibers to accommodate both experienced shooters and first-timers. Choose from:
.22
.357
.38
.38SP
.40
.44
.45
.454
.50
5.56
7.62/.308
9mm
Type
The type of gun you choose to practice with will vary depending on your intended use. Among our gun range rentals, you'll find:
1911: A 1911 firearm features a short-recoil, ergonomic design and slim size.
Full Size: These guns, which are the full size of the pistol or rifle, provide exceptional control and reduced recoil.
Compact: Featuring a shorter barrel and frame than a full-size weapon, compact guns are easier to carry and conceal.
Subcompact: Subcompact is the smallest type of gun available and is the most comfortable to carry throughout the day.
Carbine: A carbine is a long firearm with a shorter barrel than a rifle, offering easy manipulation.
Configuration
If you have a preferred firearm configuration, we offer an extensive selection to meet your needs. Pick from gun configurations including:
Handgun: Handguns are compact and easy to carry, even with one hand.
Rifle: Rifles have a long barrel capable of delivering powerful rounds and accurately shooting long distances.
Revolver: Revolvers are highly efficient firearms, and the right grip can fit nearly any hand size.
AR-Style Rifle: AR-15s can operate in both short ranges and incredibly long distances. They offer exceptional accuracy and high ergonomics.
Machine Gun: Machine guns deliver a large number of bullets rapidly, allowing the user to hit their target quickly.
Submachine Gun: Unlike machine guns, which use rifle ammunition, submachine guns use handgun ammunition. Many submachine guns are smaller than machine guns for easy control.
Action
We also offer both single-action and fully automatic guns for rent. Each offers unique advantages for new and experienced shooters.
Single Action: Single-action guns, which require the shooter to cock the gun between each shot, feature a shorter trigger pull that often feels most natural to new shooters.
Semi-Automatic: A semi-automatic firearm reloads automatically, although it fires only a single shot with every trigger pull. These guns are typically easier to shoot quickly than single-action revolvers.
Full Automatic: Fully automatic guns fire continually with the press of the trigger and only stop once the trigger is released.
Rentals Near Pittsburgh
Visit Keystone Shooting Center Gun Range
Whatever type, configuration, manufacturer, action or caliber you prefer, you'll find a firearm to meet your needs at Keystone Shooting Center, Pittsburgh's premier shooting range with rentals.
Keystone Shooting Center is a veteran-owned and -operated business in Mars, PA. As one of the top shooting destinations in the country, our priority is to make you feel at home in our service-oriented range.
Enjoy shooting some of today's most popular firearms — including AR-15s — in a 25-yard, climate-controlled lane. With an extensive selection of rentals, competitive prices and a range of services to accommodate both new and competitive shooters, Keystone Shooting Center offers a unique experience you won't find anywhere else in the Pittsburgh area.
Contact us at (412) 357-8000 for more information about our facility or available rentals, or stop by our facility to get started. If you're a beginning shooter, we'll be happy to help you choose the best rental firearm for your needs.
This is the best indoor shooting range I've ever been to. Great prices, great selection and a knowledgeable staff. I was pleasantly surprised to find out that this store was owned and operated by veterans. Highly recommended.
Louis S.
view more testimonials
stay on
target
Stay up to date with everything Keystone Shooting Center has going on right in your inbox.
Hours:
Monday - Friday: 10AM - 8PM
Saturday: 10AM-9PM
Sunday: 10AM - 6PM