The Best Gun Cleaning In The Area
BEST PROFESSIONAL GUN CLEANING IN PITTSBURGH
Your gun is a valued part of your life – and as such, it's essential to take care of it to ensure its reliability. Regular cleaning is a crucial step in maintaining this valuable asset, and Keystone Shooting Center is here to help. We offer basic and sonic gun cleaning services for anyone looking to take premium care of their weapon.
Keep your firearm in perfect working order. Let us do the work while you wait or we can do it together in one of our Gun Cleaning Essential Classes. We will do a breakdown of your gun and return it cleaned and lubed. We can also do a more thorough sonic clean as well. You will, however, need to leave your gun for the sonic cleaning.
For any and all of your Gunsmith questions and concerns, please email Gunsmith@Keystoneshootingcenter.com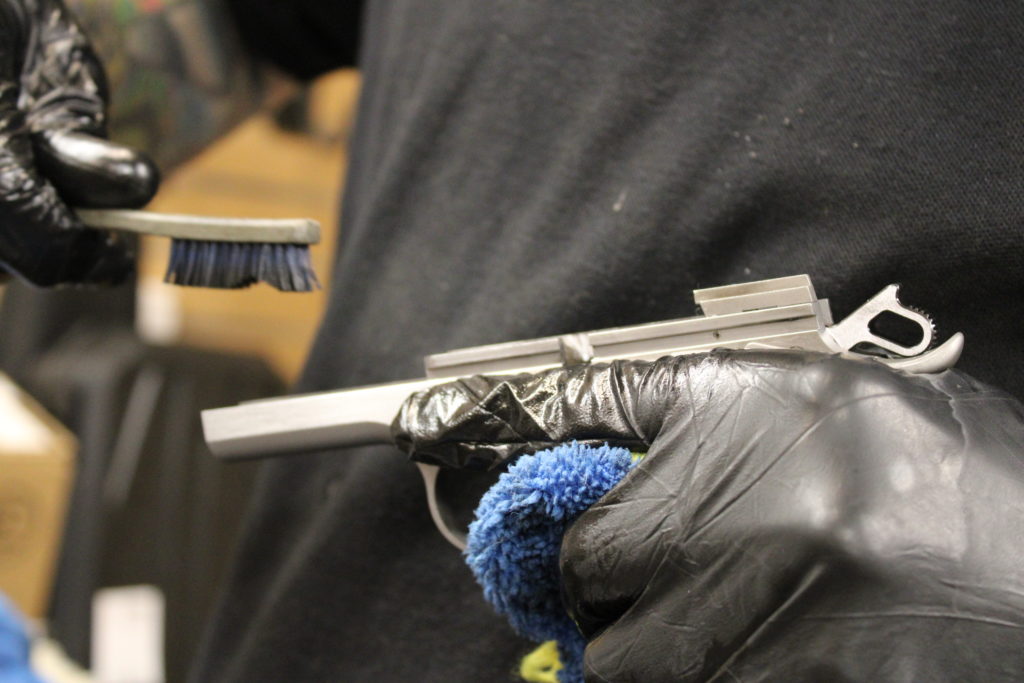 What Is A Sonic Gun Cleaning?
During a traditional gun cleaning, we will disassemble your firearm and clean its components by hand. We'll then lubricate it based on its manufacturer's specifications before returning it. This general cleaning will allow your gun to function safely and correctly.
For an especially deep clean, many gun owners choose to perform occasional sonic cleanings to keep their favorite firearm in top shape. During this process, we clean your gun in a tank containing a sonic cleansing solution designed to clean firearm components. The cleansing process is as follows:
Breakdown: Our professionals break down the gun so that the cleaner can reach each part individually. We'll disassemble your firearm according to the manufacturer's specifications before placing it in the cleaning tank. Our tanks are large enough to accommodate nearly any size model.
Cycling: After we place all the components in the container, the sonic cleaning service begins. We'll set the timer for a designated amount of time to allow the cleanser to take effect. The cleanser removes any grease, dirt, oil and carbon buildup.
Drying: Once the first cycle is complete, we'll remove and examine the parts to make sure the cleanser sanitized each piece thoroughly. We'll then allow them to dry and lubricate them to ensure a longer lifespan of your gun.
Part Cleansing: After checking each part, we'll again clean any pieces necessary to help your firearm function as smoothly as possible.
Reassembly: Once we've made sure each part is spotless, we'll carefully reassemble your gun and oil the outside before returning it to you.
Why Is It Important To Have Your Gun Cleaned?
At Keystone Shooting Center, we take your gun's safety and reliability seriously. We've designed our professional gun cleaning services to keep your weapon in the best condition, so you can enjoy it for years to come. Proper cleaning and maintenance by our expert staff will:
Ensure Your Firearm's Longevity: If you're planning on passing down your favorite gun to your children or grandchildren, you'll want to have it cleaned regularly. Proper maintenance can keep your firearm functioning properly for generations.
Prevent Malfunctions: Several common types of malfunctions stem from neglecting to clean and maintain your firearm. For example, a round could get stuck inside the barrel due to residue buildup, or the gun could fail to eject a used cartridge.
Keep You Safe: Malfunctions due to dirt or corrosion can be inconvenient at best and unsafe at worst. If a used cartridge fails to eject and a live round is forced into its base, the gun could explode. Maintaining a cleaning schedule can protect you from these harmful accidents.
This facility is top notch. The staff there is knowledgeable and spent time researching what works and doesn't work for shooting ranges. They have the top of the line technology, great staff, and a positive environment. They also foster safety and offer classes enabling those apprehensive or new to the gun world a safe and comfortable environment to learn in.
Bud N.
view more testimonials
stay on
target
Stay up to date with everything Keystone Shooting Center has going on right in your inbox.