The Best Gun Cleaning In The Area
GUN CLEANING SERVICES IN PITTSBURGH
As a gun owner, you understand the importance of taking care of your firearm. The Keystone Shooting Center team is here to make it easier, providing expert and affordable gun cleaning services in Pittsburgh, Pennsylvania. Our team offers hand and ultrasonic cleanings to keep your pistols, rifles and shotguns looking and performing their best.
Contact us online to learn how our experienced gun professionals can service your firearm.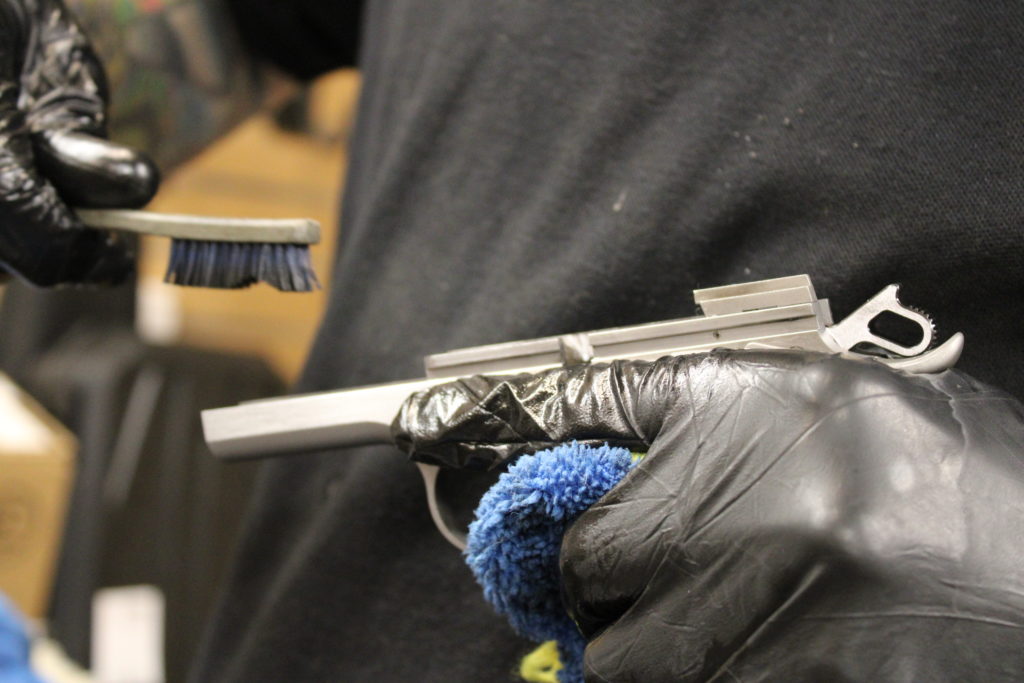 Why Is Cleaning Your Firearm Important?
Whether you depend on your gun for home security or enjoy taking it to the range, keeping it clean is critical to its performance and safety. Keystone Shooting Center's expert gun cleaners in Pittsburgh offer complete solutions to keep your firearm in prime condition. Our cleaning services will help:
Ensure reliable operation: A dirty gun will compromise your firearm's performance and alter your bullets' trajectory, reducing your overall accuracy.
Increase your firearm's life span: Performing regular firearm maintenance will decrease the likelihood of corrosion, eliminate buildup and ensure your firearm is ready to perform reliably.
Avoid dangerous malfunctions: If you allow dirt, debris and gunk to build up over time, your firearm will be more susceptible to failed ejections, feeding issues or even explosions, which can lead to severe injury.
Your Go-to Gun Cleaners in Pittsburgh
When you want to service your firearm, you can count on Pittsburgh's foremost firearm cleaning service at Keystone Shooting Center. Our team has years of experience working with various firearm models. We offer standard and deep cleaning services, ensuring we provide you the solutions your firearm deserves. With regular cleanings, we'll disassemble your gun, thoroughly scrub it by hand and lubricate it per manufacturers' standards.
If you need a more thorough service, our team is skilled in providing sonic cleanings as well. Sonic cleaning is designed to get in deep, using vibrations that penetrate every crack and crevice to remove all the gunk, debris and dirt that can build up over time. We'll take your gun apart and place it in our ultrasonic cleaning tank with a special cleaning solution. After some time in the tank, we'll remove the pieces, dry them, and then reassemble, lubricate and function-test your gun before returning it to you.
As somebody that is completely new to shooting, this place was a great place to start. The sales staff is friendly, courteous, patient, and willing to answer any questions that you may have. The same can be said about the ROs.
Matt W.
view more testimonials
stay on
target
Stay up to date with everything Keystone Shooting Center has going on right in your inbox.