SHOOTING RANGES THAT HOLD CORPORATE EVENTS IN PITTSBURGH
Private Events
Are you looking for a thrilling new place to hold your next corporate event or family gathering? Look no further than your local shooting range. At Keystone Shooting Center in Pittsburgh, PA, we're fully equipped to provide a safe and memorable corporate or recreational event for your small or large group. No experience or extensive planning is needed – just book your reservation and enjoy some friendly competition with your co-workers or loved ones.
Submit Event Request Online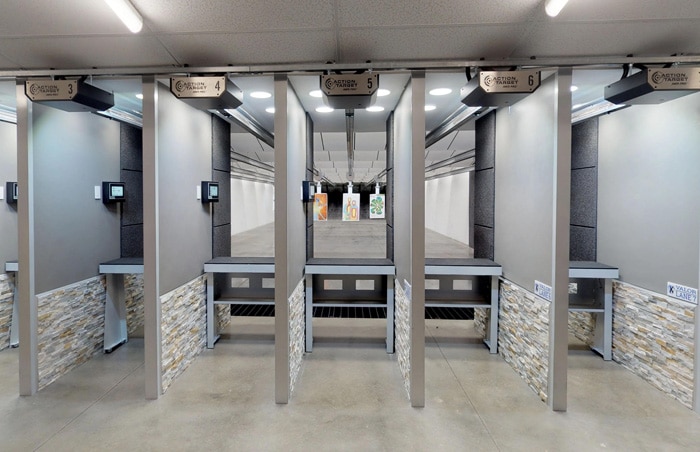 Book Special or Private Events
(412) 357-8000

When you book your next team building event or private party at Keystone Shooting Center, you can choose to access:
24 indoor climate-controlled lanes
More than 100 standard, premium and automatic weapons available for rent
Rental hearing protection and eye protection
Private bay and meeting room access
Private instruction from experienced professionals
Food provided by the area's top caterers
We fully tailor our private event services to your gathering's unique needs and budget for an enjoyable experience your entire party will never forget.
Gun Range For Corporate And Teambuilding Events Outside Of Pittsburgh
Take your company's upcoming corporate event to the next level with a day at our state-of-the-art gun range. Whatever you need to make your event a success, we'll make sure your experience is exceptional.
We offer services tailored to numerous corporate events, including:
Teambuilding events
Corporate holiday parties
Business meetings
Employee recognition events
Retirement parties
Conferences
Company training
Our full range of services suited for any company gathering is sure to help your employees unwind, interact and have a blast.
Shooting Range For Small And Large Private Events
What better way to get friends and family together than with a private event at a shooting range near you? Keystone Shooting Center gives both first-timers and competitive shooters a fun place to hang out, relax and hone their skills.
We specialize in tailored events for:
Birthdays
Bachelor and bachelorette parties
Family reunions
Holiday gatherings
Anniversary parties
Charity events
Other parties and celebrations
Whatever your group size, budget or needs, we'll offer a customized experience that's sure to have everyone in your group begging to come back.
Visit Keystone Shooting Center Gun Range For Your Next Corporate Event
Keystone Shooting Center in Mars, PA, is your one-stop source of adventure, interaction and relaxation with your friends, family or corporate group. Our goal is to give you and your guests the best possible customer experience that will have you coming back again and again.
See why we're known as one of the top shooting destinations in the country – contact us at (412) 357-8000 today to book your next group gathering!
Why Choose Keystone Shooting Center's Shooting Range?
Your Private Or Corporate Event
Whether you're planning a party, corporate event, family get-together or another kind of group gathering, finding ideas that will keep every member entertained can be a challenge. If you're looking to switch up your routine with a thrilling new experience, book your next event at Keystone Shooting Center, conveniently located near Pittsburgh.
You'll find a wide range of benefits when you host your next corporate or private event at our Mars, PA, location:
One-of-a-Kind Experience: A gun range goes beyond the traditional dinner-and-drink meeting or a conventional night out as a bachelor or bachelorette. A shooting range corporate event or family gathering is one of the most memorable experiences you could give your guests.
Safety: Our top priority in hosting your group event is keeping everyone safe – even those who have no experience at a gun range. We offer training from professionals with years of shooting background. They'll instruct you on how to handle and shoot a firearm correctly for the safest possible experience.
Bonding and Corporate Teambuilding: Hosting regular teambuilding events and corporate meetings outside the office holds incredible value. Teambuilding can improve productivity, encourage better communication among colleagues and generally bring employees across the workplace together for a shared activity. Hosting every corporate event at the same location can soon get dull and leave employees stuck in a rut. A shooting range offers a new place for colleagues to gather, compete and cooperate.
Physical Activity: Not only does a shooting range encourage groups to talk and work together, but it also gets people up and active. Gun ranges offer numerous physical benefits that are particularly helpful to desk workers, such as increased stamina, strength and hand-eye coordination. A corporate event at the gun range will help your employees stay active.
Fun: There's nothing like that rush of excitement when you hit your first target at a gun range. Why not share that thrill with your friends, family or co-workers? A shooting range offers hours of fun and encourages a healthy sense of competition.
The absolute best place to buy and shoot guns in the wider Pittsburgh area. This place is light years ahead from any other gun store. The level of service is impeccable, employees will get out of their way to help and accommodate, and the facilities are 5 star hotel equivalent. There is always an experienced employee supervising all three shooting ranges and they are there to assist in case of a jam or malfunction. This is really a place we are fortunate to have in the area. I now have a membership and recently had a 1-1 class with Mike helping me with my technique. He was unbelievably helpful and cordial. This is a 5 star place.
Felix M.
view more testimonials
stay on
target
Stay up to date with everything Keystone Shooting Center has going on right in your inbox.