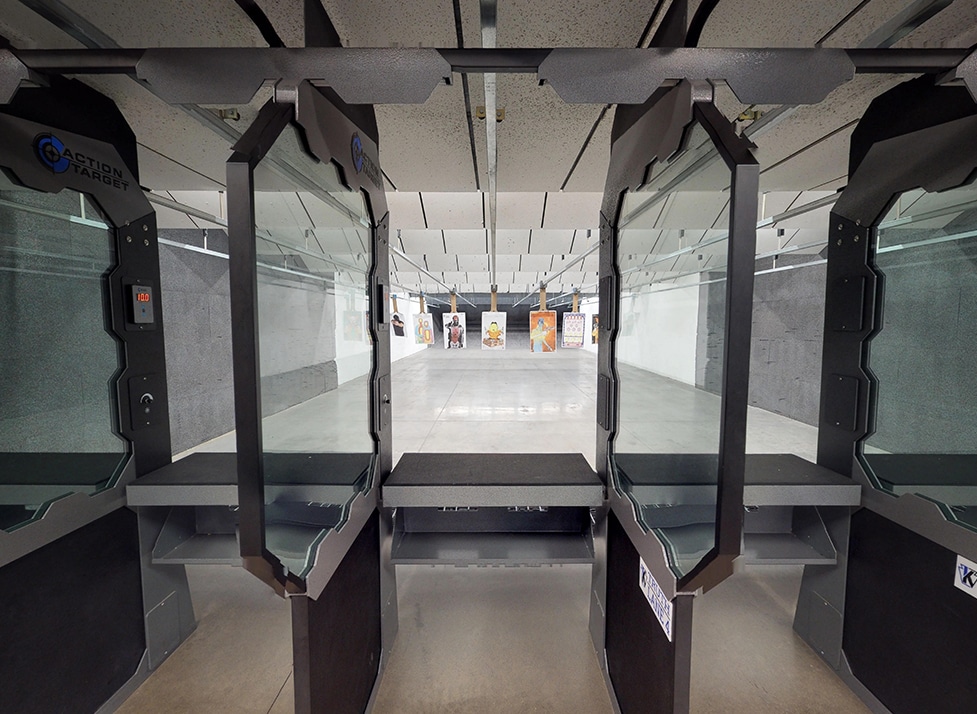 With Gun Rentals in Pittsburgh
Indoor Shooting Range
Are you a new shooter who doesn't yet own a firearm, or an experienced shooter on vacation near Pittsburgh, PA? Whatever the case may be, you can enjoy a thrilling day at your local indoor shooting range — even without your own gun — at Keystone Shooting Center.
Keystone Shooting Center is a world-class gun range that rents firearms to both members and walk-ins. We offer an extensive selection of more than 100 guns for rent, including guns manufactured by top names such as Beretta, Glock, Sig Sauer, CZ, Benelli, H&K, Smith & Wesson, Kimber, Colt, FN and more.
All rental firearms must use ammunition purchased at Keystone Shooting Center. We offer rental guns to meet the needs of nearly every member or walk-in. Choose from a wide array of calibers, types, configurations and actions for your convenience.
Reserve Range Time
Caliber
Choosing the right caliber for your needs is crucial. Your gun's caliber determines the amount of recoil you'll face, the size of your firearm and the gun and cartridge combination's effectiveness. A first-time shooter might be more comfortable and shoot more accurately with a low-recoil cartridge, such as a .22 or 9mm — although you should also take factors such as gun size and barrel length into account when finding your ideal firearm.
We offer a range of calibers to accommodate both experienced shooters and first-timers. Choose from:
.22
.357
.38
.38SP
.40
.44
.45
.454
.50
5.56
7.62/.308
9mm
Type
The type of gun you choose to practice with will vary depending on your intended use. Among our gun range rentals, you'll find:
1911: A 1911 firearm features a short-recoil, ergonomic design and slim size.
Full Size: These guns, which are the full size of the pistol or rifle, provide exceptional control and reduced recoil.
Compact: Featuring a shorter barrel and frame than a full-size weapon, compact guns are easier to carry and conceal.
Subcompact: Subcompact is the smallest type of gun available and is the most comfortable to carry throughout the day.
Carbine: A carbine is a long firearm with a shorter barrel than a rifle, offering easy manipulation.
Configuration
If you have a preferred firearm configuration, we offer an extensive selection to meet your needs. Pick from gun configurations including:
Handgun: Handguns are compact and easy to carry, even with one hand.
Rifle: Rifles have a long barrel capable of delivering powerful rounds and accurately shooting long distances.
Revolver: Revolvers are highly efficient firearms, and the right grip can fit nearly any hand size.
AR-Style Rifle: AR-15s can operate in both short ranges and incredibly long distances. They offer exceptional accuracy and high ergonomics.
Machine Gun: Machine guns deliver a large number of bullets rapidly, allowing the user to hit their target quickly.
Submachine Gun: Unlike machine guns, which use rifle ammunition, submachine guns use handgun ammunition. Many submachine guns are smaller than machine guns for easy control.
Action
We also offer both single-action and fully automatic guns for rent. Each offers unique advantages for new and experienced shooters.
Single Action: Single-action guns, which require the shooter to cock the gun between each shot, feature a shorter trigger pull that often feels most natural to new shooters.
Semi-Automatic: A semi-automatic firearm reloads automatically, although it fires only a single shot with every trigger pull. These guns are typically easier to shoot quickly than single-action revolvers.
Full Automatic: Fully automatic guns fire continually with the press of the trigger and only stop once the trigger is released.
Rentals Near Pittsburgh
Visit Keystone Shooting Center Gun Range
Whatever type, configuration, manufacturer, action or caliber you prefer, you'll find a firearm to meet your needs at Keystone Shooting Center, Pittsburgh's premier shooting range with rentals.
Keystone Shooting Center is a veteran-owned and -operated business in Mars, PA. As one of the top shooting destinations in the country, our priority is to make you feel at home in our service-oriented range.
Enjoy shooting some of today's most popular firearms — including AR-15s — in a 25-yard, climate-controlled lane. With an extensive selection of rentals, competitive prices and a range of services to accommodate both new and competitive shooters, Keystone Shooting Center offers a unique experience you won't find anywhere else in the Pittsburgh area.
Contact us at (412) 357-8000 for more information about our facility or available rentals, or stop by our facility to get started. If you're a beginning shooter, we'll be happy to help you choose the best rental firearm for your needs.
This is the best indoor shooting range I've ever been to. Great prices, great selection and a knowledgeable staff. I was pleasantly surprised to find out that this store was owned and operated by veterans. Highly recommended.
Louis S.
view more testimonials
stay on
target
Stay up to date with everything Keystone Shooting Center has going on right in your inbox.
Hours:
Monday - Friday: 10AM - 8PM
Saturday: 10AM-9PM
Sunday: 10AM - 6PM