Are you in charge of a group or part of a group that struggles with collaborative teamwork and effective communication? Team building can encourage collaboration between group members, improve the workplace dynamic and help your employees or team members communicate more effectively.
Team building activities should provide an opportunity for participants to have fun and connect in a different and comfortable setting. After participating in a team-building activity or event, you can ask the people on your team what they think about how their participation will impact their workplace.
Why Is Team Building Important?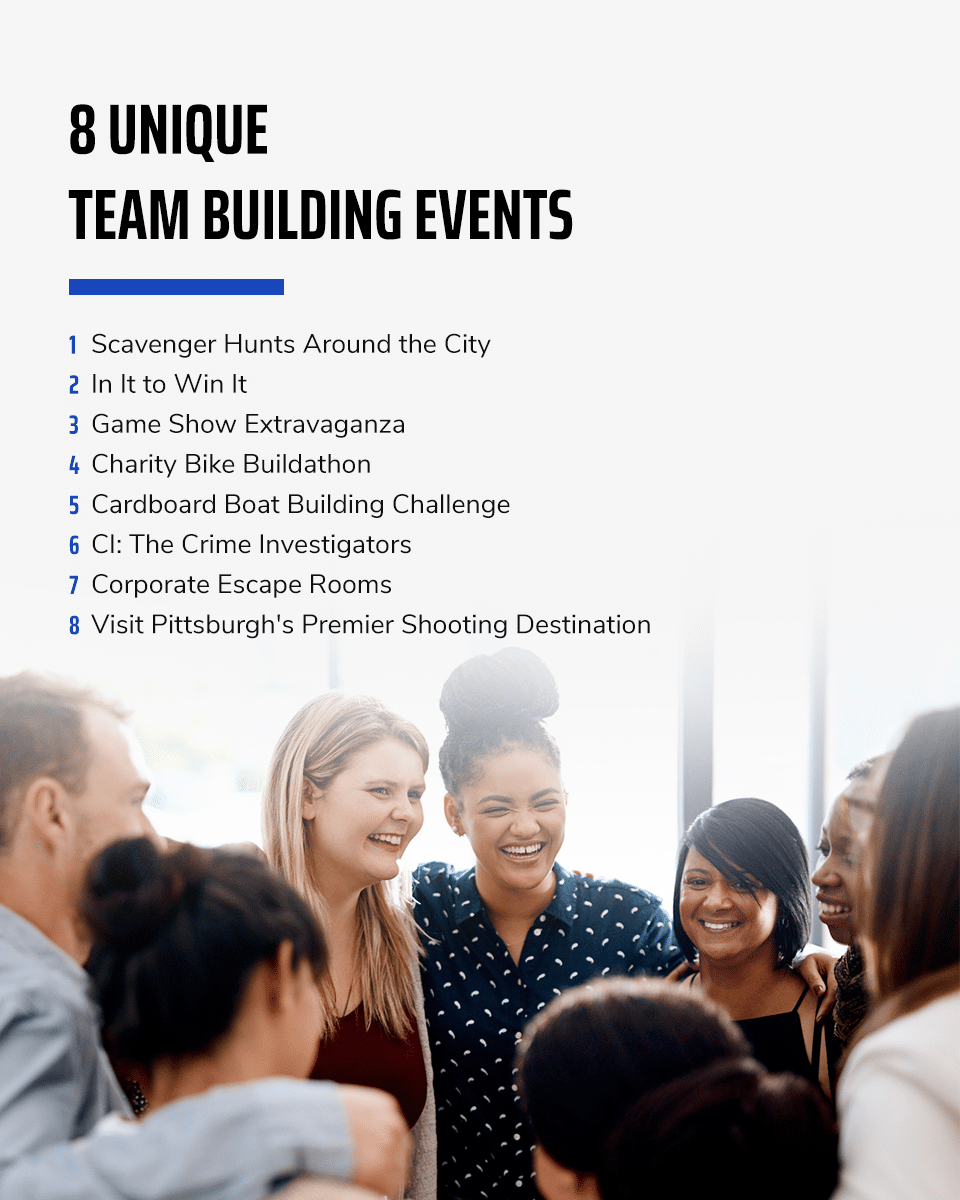 Why should your team or employees engage in team-building events and activities? The following is a list of reasons to engage in team building.
1. Improve Communication
Perhaps the number one reason employers choose to incorporate team-building events and activities into their employees' schedules is to improve communication between team members. Just like any relationship, having an open, honest and respectful line of communication is key to creating a strong connection and friendly environment. When employees work in a friendly environment, they become more comfortable, feel like they can talk to anyone and get excited to come to work, which means they're also better employees. And better employees mean better business.
2. Increase Creativity and Innovation
When we're around people we're comfortable with, we tend to be more creative and have bigger imaginations. When a team can form a creative work environment, they can come up with different methods of problem-solving. This change results in a more successful workspace, which naturally leads to a more successful business.
3. Celebrate and Motivate
We like to celebrate our wins, and allowing employees to celebrate their accomplishments and successes — even minor ones — can lend a nice boost to morale. Your employees will have a chance to have fun together when they celebrate, which will motivate them to continue doing good work so that they can celebrate their successes again.
4. Boost Productivity
There's nothing like a little healthy competition to boost productivity. Through some good-spirited competition in team-building activities, a team can bond in an effective, fun way. Not to mention the winners will have bragging rights, which means everyone else will be itching for their shot at redemption through another team-building event.
5. Enhance Team Performance
When teams know and understand each other better, their performance improves in the workplace. Through team-building events and activities, coworkers can learn about each other's interests, strengths, and weaknesses. They'll learn which roles their colleagues tend to play in the group and what each individual may be able to contribute to a certain project. With this understanding of one another, a team can continue working well together on future projects.
6. Deepen Working Relationships
One of the best methods of increasing productivity in the workplace is through socializing and forming friendships. When colleagues get along, they get better at working together and solving everyday problems.
8 Unique Team Building Events
Pittsburgh offers an abundance of cultural and recreational venues. To host unique corporate events in Pittsburgh, employers can choose from a wide selection that the city has to offer and plan an exciting, fun event that everyone will enjoy and benefit from.
If you're looking for team building events in Pittsburgh for your colleagues or employees, check out the following list to get started.
1. Scavenger Hunts Around the City
Explore Pittsburgh through scavenger hunts that incorporate tricky challenges and humorous questions. Along the way, participants will reveal secrets in locations around the city and discover the strengths of their colleagues. All of your employees or team members will get in on the fun.
Choose from the following scavenger hunts offered by Watson Adventures in Pittsburgh:
Through scavenger hunts, your team will learn one another's strengths and figure out how to improve their collaboration and communication — all while having fun!
2. In It to Win It
Ever heard of the TV game show called Minute to Win It? That's where the creators of In It to Win It got their inspiration, and now your team will have the chance to engage in these fun, zany team activities. Bring your group of 20 or more for two hours of fun.
This team activity will get everyone involved and having fun. Your group will be divided into teams, and the teams will compete in fast-paced activities that will most certainly elicit a lot of cheers and laughter. In It to Win It is great for:
Project start-ups or conclusions
Mid-project motivation
Company transitions
Conferences
Sales meetings
Dinner parties
Holiday parties
Conference breaks
After a few exciting icebreakers, the In It to Win It challenges will be demonstrated to the teams. Participants will then be able to practice the activities and potentially brainstorm how to increase their odds of success. Next, participants will engage in training so that they can practice the challenges. The facilitator will build excitement throughout the event by using music and humor.
You can request that the games and activities be tailored to meet the outcomes you want from your team, such as improved communication, cooperation, creative thinking, goal setting, time management, problem-solving or leadership skills.
3. Game Show Extravaganza

What better way to team build and stir up a little healthy competition than through a game-show-style activity? For two hours, your team will tackle trivia challenges during Game Show Extravaganza. This event takes place in an indoor venue, and participants will tackle challenges from various categories, including pop culture, world history and sports. Your group should have at least 10 people, and teams will have about two to five participants.
This activity is great for groups that are competitive, energetic and brainy. First, the group will split into teams and come up with unique team names. Every member will introduce themselves by sharing fun, interesting facts about themselves as they would in a real game show. Then, teams will collaborate on high-energy challenges to earn points for each challenge they complete successfully.
Teams work together to earn as many points as they can before time runs out. The team with the most points will be crowned the champions of the Game Show Extravaganza.
4. Charity Bike Buildathon
If your team members are up to the challenge, they can build, decorate and then donate bicycles to a children's charity. This event lasts about one to three hours and can be performed by a group of 25 or more. Teams can divide up into any size, and the event takes place indoors. Your group will then showcase their designs and build and decorate their bikes.
This event is great for groups that are creative, compassionate and social. Your group should think outside of the box to come up with solutions, enjoy giving back to the community and be excited to work in collaboration with their colleagues. Your team will be performing a charitable act, and they'll also bond as a group and get a chance to be creative with this hands-on activity.
For a great activity that will engage your team creatively and strengthen their collaborative skills, consider participating in the Charity Bike Buildathon.
5. Cardboard Boat Building Challenge
Can your team build boats out of cardboard and tape? Test their skills in the Cardboard Boat Building Challenge. For two to four hours, your group of 25 or more will customize boats out of the few provided materials. They'll divide into teams of two to eight, then design and construct cardboard boats. After the teams are satisfied with their creations, they'll test their boats out on the water. Each boat will be evaluated based on its functionality and design.
But the fun doesn't stop there. Make sure everyone brings a change of clothes because after teams test out their creations, they'll hop into their boats and compete against each other in aquatic challenges. For a team to be successful at this activity, they'll need to be skill-orientated, creative and energetic. If your team is itching to work with their hands and tackle some physical challenges, this activity may be a great one to try out.
6. CI: The Crime Investigators

Your team will employ their detective skills in CI: The Crime Investigators. Over the course of two to four hours, your group of 10 or more will uncover clues and find evidence to solve a crime. The group will split into teams of five to six and use their creative thinking skills to inspect the "crime scenes."
First, teams will use top-secret folders to locate the crime scenes. Then, they'll search every area for evidence and clues. Once they've collected their evidence, they'll exchange their findings to get lab results. By analyzing the evidence and combining their critical thinking skills, they'll determine who committed the crime.
If your group is social, brainy and competitive, this could be a fun team building activity for them. Maybe your team enjoys a good mystery and a mental challenge. Departments and personalities can mix so that colleagues can get to know one another better and learn how to collaborate more effectively.
Who will be the top Crime Investigators in your group?
7. Corporate Escape Rooms
Another team building activity in Pittsburgh to consider is the Corporate Escape Rooms. These rooms are designed specifically for corporate groups. The event lasts from one to two hours and is great for groups of 10 to 500. Teams will divide into three to 15 people to work together, think outside the box and do some creative problem-solving. They'll solve puzzles and uncover clues to escape the room before time's up.
You can choose from two escape room themes: Jewel Heist and the Mummy's Curse. In the Jewel Heist, teams will compete to see who can find the stolen jewels first. To solve the case, teams will need to uncover hidden clues and solve brain teasers. This activity will require creative problem-solving, collaboration and the ability to think outside the box.
In the Mummy's Curse, teams will need to retrieve the talisman so that they can lift the mummy's curse. Teams will be provided with mysterious items that they can then use to strategize and problem-solve. Each team will need to figure out how to work together to solve the puzzles before they run out of time.
8. Visit Pittsburgh's Premier Shooting Destination
Enjoy an entirely new experience at Keystone Shooting Center. If you're looking for a great team building activity in Pittsburgh, you'll want to make a stop at Keystone. Get your adrenaline pumping with firearms training programs and corporate events that can be customized to suit your group's needs.
We are veteran-owned and operated, and we aim to provide a welcoming environment for our visitors. We're proud to be one of the top shooting destinations in the nation, and we strive to provide our customers with a safe, clean and friendly environment where they can enjoy a fun team building experience.
At Keystone Shooting Center, you can enjoy three businesses under one roof: retail, an indoor range and our training facility. After less than a year in business, we were voted a Pittsburgh Fan Favorite. We've garnered a 4.8 rating on Facebook and Google Reviews from customers who have enjoyed our 24 indoor lanes and nearly 100 firearm rentals, including machine guns and sub-machine guns. You can also select from more than 500 firearms for purchase, including used firearms.
Membership discounts are available to law enforcement and military members. We also welcome walk-in customers. No matter the size of your group, you'll find that we have ample room to accommodate everyone.
If you're looking for an exciting, memorable experience your team won't forget, remember that you'll find it at Keystone Shooting Center.
Reserve Range Time at Keystone Shooting Center

We believe everyone in your business will benefit from time at the gun range. For a fun, exciting team building activity in Pittsburgh, reserve a range lane at Keystone Shooting Center today.
Last Updated on