While the typical date might be dinner and a movie, you don't have to look far to find unique date night ideas in Pittsburgh. This guide will get you started on a list of extraordinary things to do in Pittsburgh you may have missed or overlooked in your search for date night ideas. Whether this is a first date where you're looking to make the perfect first impression or you want to knock the socks off the love of your life, these are among the top unusual date ideas in Pittsburgh to consider.
1. ESCAPE FROM ESCAPE ROOM PITTSBURGH

With several great options to choose from, Escape Room Pittsburgh offers plenty of potential as a great "let's get to know each other better" kind of date night. The premise is simple. You get locked into a themed room with your date and have to use clues from your surroundings to make your escape. It can be an excellent evening for people who enjoy solving puzzles and playing games, but it is not for everyone so know a little about your date first to make sure it is something they are likely to enjoy.
2. GO ON A TIKI CRUISE
While there are many exciting ways to view the city's rivers, none offer the novelty of a Tiki Cruise of Pittsburgh. While you can take up to six people — making it a double or even triple date event — it can be a fun option for a couple as well and something the two of you will remember for years to come. The cruise itself takes two hours and gives you and your date an authentic island experience.
3. BUILD A BEAR TOGETHER
While most people think of building bears as a child's activity, it is the perfect date night experience. Whether you build matching bears or each work to outdo the other, a trip to Build-A-Bear is a date night not only to build memories you'll cherish but also provides you with something to remember the event by long after date night is over. As far as fun things to do in Pittsburgh go, this one is sure to score some points with anyone who is still a kid at heart.
4. MAKE-IT-A-DATE AT PITTSBURGH GLASS CENTER
One unique date idea in Pittsburgh is "Make It Now," a glassblowing session at Pittsburgh Glass Center. This is a unique date night experience reserved for couples aged 21 and older and allows the two of you to sculpt, blow or fuse glass. While glass blowing is an art, beginners can do well at the activity. There are hors-d'oeuvres and drinks, along with live entertainment, afterward.
5. GIVE YOUR DATE A SWEET TREAT AT THE MILK SHAKE FACTORY

Great for more than milkshakes, the Milk Shake Factory is Pittsburgh's premier destination for everything chocolate and milkshake. They offer handspun shakes, gourmet chocolates and a wide range of delightful ice cream and chocolate concoctions sure to please the chocolate lover in every couple. Enjoy a true soda fountain experience without going back in time with this fun date night outing.
6. TAKE IN A MOVIE UNDER THE STARS
While going to the local movie house to watch a flick is a typical date night event, viewing one outdoors on a blanket under the stars is not. Various city park locations offer free movies under the stars throughout the warmer summer months. Previous entries into the summer movie offerings have included "Star Wars: The Last Jedi," "A Wrinkle in Time," "Jumanji: Welcome to the Jungle" and other family-friendly movies. Most allow you to bring blankets or chairs and picnic baskets with you for a unique twist on a popular date night outing. The movies run from the beginning of June through the end of August at 10 city parks.
7. DINE AMONG THE TREES
This one is located a little way outside of Pittsburgh in the town of Acme and is well worth the short drive to get there. It is the Treetops Restaurant that is, itself, a treehouse. You can enjoy the view of the nearby trees from a table seat inside the restaurant or dine on the treehouse deck for a truly natural dining experience sheltered by the trees surrounding the restaurant. The views outstanding, the food is first rate, and the menu offers selections to meet a wide range of dietary needs including options suitable for carnivores, vegetarians and vegans alike.
8. TAKE YOUR DATE TO A PIRATES GAME
Although going to a baseball game isn't an extraordinary activity for couples to do, watching the Pittsburgh Pirates at PNC Park is. Experiencing PNC Park on the North Shore with the backdrop of the city is nothing short of spectacular. Pair watching the Bucs play with fireworks night or free concert night, and you have an even more unique baseball event as you "root, root for the home team." To take it even further, consider booking the all-you-can-eat seats the next time you want to go to a Pirates game.
9. VISIT OLD BUILDINGS TURNED INTO COFFEE HOUSES, RESTAURANTS OR BARS
The city of Pittsburgh has a way of turning gorgeous old buildings into hip and modern places. The Abbey on Butler Street is one example as this coffeehouse and pub used to be an old funeral parlor. The lively bar and restaurant the Church Brew Works used to be St. John's the Baptist Church.
10. ATTEND A STEELERS GAME

Whether they are having an excellent season or one less than spectacular, there is no experience quite like attending a Steelers game with your special someone. Even if your date isn't a fan of the game, one in stadium experience at Heinz Field can transform them. There is nothing on earth quite like the intensity of a live Steelers game and the thrill stemming from watching in the stands. Additionally, the before-the-game tailgate parties are an experience in themselves. If both you and your date are big fans, you can bond even more over the experience.
11. BE A TOURIST WITH JUST DUCKY TOURS
While the Tiki Tours mentioned above offer an excellent opportunity to explore the Pittsburgh rivers, the Just Ducky Tours allow you to see the city from the eyes of a tourist on land and water. Sometimes, if you live and work in the city, you can forget how magical it can be and how many things there are to see, do and explore in the area. Just Ducky Tours remind you of the things you can do and help you get more out of your time in the city throughout the year.
12. VISIT A UNIQUE MUSEUM
Pittsburgh has its share of traditional museums, but it also has some unusual museums. Here are some of the most interesting:
13. EXPLORE THE PITTSBURGH ZOO AND PPG AQUARIUM
Be kids for a day and explore the magic and wonder of an exotic land, sea and air animals at the Pittsburgh Zoo and PPG Aquarium. This adventure is not just for kids or even the young at heart. It can be a truly romantic experience for couples everywhere. If you want to work a little adventure into your day, consider one of the Wild Encounters experiences available at the zoo or go ziplining for a birds' eye view of the area. There are even special events throughout the year which allow you to enjoy the zoo during the evening hours, making it a great date night activity. Other special events include Zoo Brew, Penguins Parade and Animal Instincts Valentine's Day dinner.
14. GIVE YOUR DATE THE STARS
Get an up-close view of the stars by visiting the Allegheny Observatory. This research facility is closed to the public except through its tour program. The tours are free, but reservations are required to attend. Tours are available on Thursday nights beginning in April through November 1. They start at 8 p.m. and last until approximately 10 p.m. The temperatures inside the observatory are the same as outside, so visitors are advised to dress appropriately for the evening weather.
15. TRAVEL BACK IN TIME TO A 1920S SPEAKEASY

The William Penn Speakeasy is located in the William Omni Penn Hotel and allows visitors to explore the finest prohibition era entertainment available nearly a century later. You don't have to dress for the occasion, but treat yourselves to a "noir" experience with the plush scarlet seating and the tin ceiling to enhance the atmosphere. It even made the top 12 best places to Drink in Pittsburgh on Thrillist, indicating the drinks are as outstanding as the atmosphere.
16. EXPLORE THE FUTURE AT THE ROBOT HALL OF FAME
If you're in the market for truly unique date ideas in Pittsburgh, you can't go wrong with this one. The Carnegie Mellon University's School of Computer Science created the Robot Hall of Fame in 2003. Its purpose is to acknowledge robotics technology landmark achievements in hopes of raising awareness about the contributions of robotics to science and society. But when it comes to reasons to attend on date night, science and technology are not nearly as fun as the fact this is a museum devoted to robots.
17. RENT A LANE AT KEYSTONE SHOOTING CENTER
You can rent a lane for target practice at Keystone Shooting Center as well as rent firearms and take classes to teach you and your partner the basics of firearm safety, care and more. Renting a lane or even enjoying virtual shooting at Keystone Shooting Center allows you and your partner opportunities to bond over a shared interest, introduce your partner to your interests, try something new together or even heat things up with a little competitive target shooting.
18. ELEVATE YOUR ADVENTURE AT THE CLIMBING WALL
The Climbing Wall offers you and your date the opportunity to get active throughout your date. Whether your interests reside in bouldering, which is perfect for beginners just exploring rock climbing possibilities, or more advanced climbing skills and activities designed for experienced climbers, there is something for everyone, including rope climbing to consider.
19. ENJOY AN EVENT AT PHIPPS CONSERVATORY

While you, your date or both of you may have already been to Phipps Conservatory and Botanical Gardens, the historic landmark boasts a robust calendar of events throughout its 15 acres, 14-room glasshouse and 23 distinct gardens. Events include Tropical Sundays, Orchid and Tropical Bonsai Show, interactive railroad exhibits and adult certification classes including Landscape and Garden design and Green and Healthy Living.
20. SPEND A DAY IN POINT STATE PARK
Located at the tip of the "Golden Triangle," Point State Park is a National Historic Landmark and a great date location at the confluence of the Monongahela and Allegheny rivers. Bring a picnic lunch and plan for a day of adventure that may include biking, hiking, kayaking, fishing, strolling or kayaking. You can even bring along toys of your own for a nice game of Frisbee, catch and more. This is a date you and your partner may enjoy so much that you'll want to experience it several times throughout the year.
21. TRY YOUR HANDS AT AXE THROWING
If you're looking for a great date night activity to allow you to stir up a friendly competition between the two of you, LumberJaxes is a great idea. Beyond this, it's fun for many couples to do something that isn't dinner and a movie. You can talk, work out frustrations and work up a sweat outside of the gym. If you're looking for double date ideas, this is a great option as well.
22. GO ON AN ARCADE ADVENTURE
Arcade games are a lot of fun for people of all types. From old school arcade game to modern classics such as the XBOX One, Games N' Art delivers an authentic arcade experience designed to appeal to all. You and your date will find a wide range of game experiences, including Foosball, bubble hockey, driving games and video games to name a few. Plus, you can win fun prizes from your arcade game prowess. It's a fun adventure to help you bond and go home with memorabilia to remember your night.
23. TAKE A PADDLEBOARD CLASS
Who needs an ocean or lake when you have the three rivers? Take a stand-up paddle boarding class at one of the many training organizations, including Stand Up Pittsburgh and Surf's Up Adventures.
24. ATTEND 21 PLUS NIGHTS AT CARNEGIE SCIENCE CENTER
Attending a 21 Plus Night at Carnegie Science Center eliminates the challenge of enjoying the museum with your date without standing knee to elbow with younger children surrounding you and allows you to explore some unique and adult-oriented themes. These events are held throughout the year and appeal to a wide range of interests.
25. RIDE YOUR BIKES ON THE THREE RIVERS HERITAGE TRAIL
This 24-mile trail has segments on both banks of Pittsburgh's rivers. The Three Rivers Heritage Trail is a winding, nonlinear trail with access to local area attractions, business districts and city neighborhoods. Along the trail, you'll see educational interpretive signage calling out native wildlife, historical events and significant places. The trail is popular for recreation and promotes a healthy lifestyle. The U.S. Department of the Interior awarded it National Recreation Trail status in 2010.
26. HELP SAVE THE BIRDS AT THE NATIONAL AVIARY
What could be a more romantic date night experience than playing a small role in saving birds and protecting their habitats by visiting the National Aviary? Whether you are both bird enthusiasts or you are seeking another fun way to enjoy a unique date experience in and around Pittsburgh, the National Aviary is a great place to plan your adventure. There are various events planned daily as well as a calendar of unique events to explore so you can plan your trips according to the activities and adventures most appealing to you.
27. RIDE THE DUQUESNE INCLINE

If you like to explore history in action, you're sure to love the Duquesne Incline, which is a century-old cable car offering a unique view of the city as you ride. While this is public transportation in Pittsburgh and not an amusement ride, you will find people from all walks of life, including students on field trips, adults commuting to and from work, and others just out for a day of shopping and adventure. It's unique to Pittsburgh, and fun experience for those who have never tried an incline. There is another incline to consider as well — the Monongahela Incline. When you get to the top, talk a romantic stroll on Grandview Avenue on Mount Washington, where you can take in the spectacular views of downtown.
28. GO ON A SUNSET DINNER RIVER CRUISE
When the sun is dipping low in the sky, true magic happens on the water. Few places are better to explore this magic than on a sunset dinner cruise with the Gateway Clipper Fleet in Pittsburgh. Enjoy delicious food, good wine and great music while the sun goes down on the river. If you're aged 21 and over, you can consider wine tasting and moonlight dance cruises as well.
29. EAT A MEAL AT THE PITTSBURGH FOOD TRUCK PARK
Located on the Three Rivers Heritage Trail in the Millvale Riverfront Park, the Pittsburgh Food Truck Park features a daily rotation of the area's popular mobile food vendor along the river's edge. Here you'll also find a rotating a beer garden featuring nearly three dozen local drafts. Opens for the season each year in the spring.
30. RIDE THE SKIES IN A HOT AIR BALLOON

For some people, there are few things more romantic than soaring above it all in a hot air balloon. Hot air balloon flights are available year round, weather permitting, and good for all ages. One of the great things about hot air ballooning is it can be done during the day or at night, offering a grand adventure and stunning views of the city to all who experience it. Nighttime rides allow views of the city skyline while daytime rides allow you to explore the three rivers and pick out favorite landmarks from above.
31. ATTEND A STEEL CITY ROLLER DERBY MATCH
Roller derby is gaining popularity across the country, and the Steel City is no exception to a newfound appreciation of women's roller derby. Take your date to a Steel City Roller Derby match and see for yourself why this is becoming such an exciting pastime for spectators. Steel City Roller Derby is a fun-to-watch flat track derby team.
32. GO ROLLER SKATING
Even if it has been years since either of you have stood on wheels, roller skating or blading is a great date idea. You can have a lot of fun rediscovering a long lost love of roller skating or developing a newfound love for life on four wheels. Neville Roller Drome offers weekly opportunities for adult-only skating to make it a fun date night.
33. TAKE A COUPLES COOKING CLASSES
Learn how to cook up your love potions together with cooking classes at Crate. Crate offers advanced notice of upcoming cooking classes so you can pick and choose the classes most enticing to you, your taste buds and your culinary interests. You must register for classes in advance as many classes do sell out ahead of time.
ADD KEYSTONE SHOOTING CENTER TO YOUR LIST OF DATE NIGHT ACTIVITIES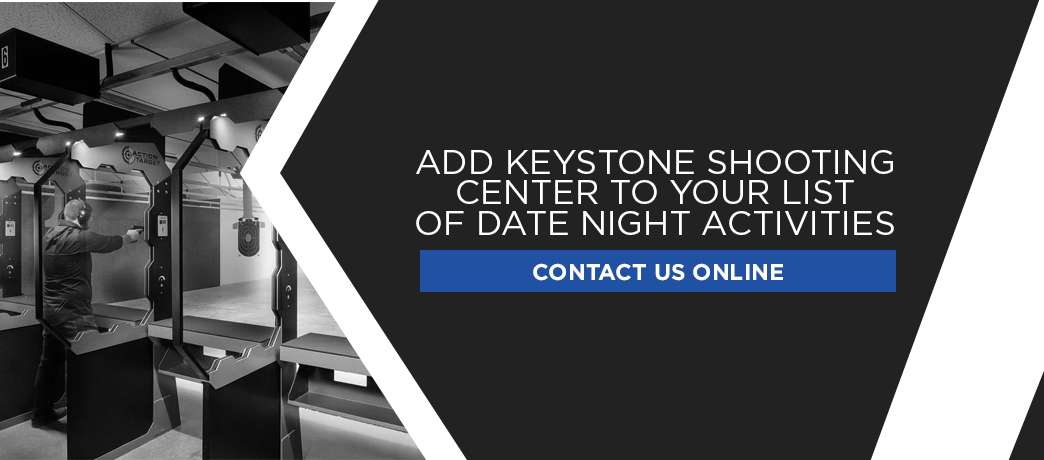 As you can see, you have many options available to consider for unique date night ideas in Pittsburgh. We hope these have created an interest in stirring up romance and fun in your relationship, and we invite you to reserve your range time at Keystone Shooting Center to see what kind of date night excitement you can find with this adventure. Contact us online today to learn about your options, or call us at (412) 357-8000.
Last Updated on