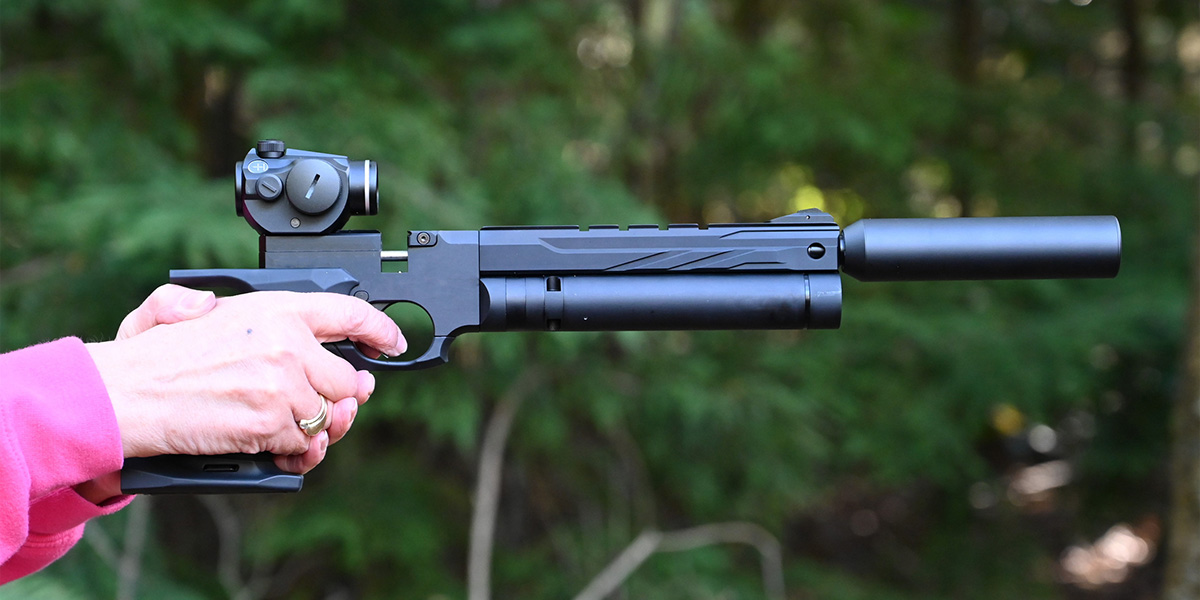 A suppressor or silencer is a muzzle device that attaches to a gun barrel. It helps suppress blast and noise after discharging the firearm and offers numerous benefits at the range, including:
Hearing protection: A well-engineered silencer can reduce gunshot noise by roughly 20 to 35 decibels, offering about the same level of hearing protection as a quality pair of earmuffs or earplugs. By controlling sound, a suppressor can help preserve the hearing of range-goers.
Minimized noise pollution: Suppressors help decelerate rapidly expanding gases after the cartridge is fired, cooling them through a series of hollow chambers. Trapped gas exits the suppressor slower and more steadily, creating less noise pollution.
Reduced recoil: When using a silencer, explosive gas is trapped and gradually dispersed before exiting the muzzle. This process reduces the gas's energy, thus decreasing muzzle climb and felt recoil. Less recoil makes it easier to shoot, helping improve your accuracy.
You might have some questions if you're looking to buy a silencer for the first time. Luckily, we've created this guide for everything you need to know before purchasing a suppressor. Explore the answers to some FAQs below.
Can You Buy a Suppressor as a Civilian?
Yes — the 1934 National Firearms Act (NFA) allows civilians to purchase and use suppressors. The Bureau of Alcohol, Tobacco, Firearms and Explosives (ATF) oversees NFA guidelines.
You don't need to be in law enforcement or have special connections to get your hands on a silencer. However, to legally buy and own a suppressor, there are a few regulations to bear in mind:
You must be a United States resident.
You must reside in one of the 42 states that legalize civilian suppressor ownership.
You must be legally eligible to purchase a firearm.
You must be at least 21 years old to purchase a suppressor from a dealer.
You must be at least 18 years old to purchase a suppressor from an individual using Form 4.
You must be at least 18 years old to purchase a suppressor as a trust beneficiary or corporation member.
You must pass an ATF background check.
Remember that these laws can vary slightly by state, so be sure to review your jurisdiction's guidelines before purchasing a silencer.
What States Allow Civilians to Own Suppressors?
Currently, 42 states allow their residents to purchase and possess suppressors without a permit:
Alabama
Arkansas
Alaska
Arizona
Colorado
Connecticut
Florida
Georgia
Iowa
Idaho
Indiana
Kansas
Kentucky
Louisiana
Maine
Maryland
Michigan
Minnesota
Missouri
Mississippi
Montana
North Dakota
Nebraska
Nevada
New Hampshire
New Mexico
North Carolina
Ohio
Oklahoma
Oregon
Pennsylvania
South Carolina
South Dakota
Tennessee
Texas
Utah
Virginia
Vermont
Washington
Wisconsin
West Virginia
Wyoming
Eight states outlaw suppressor purchase and use — California, Delaware, Hawaii, Illinois, Massachusetts, New Jersey, New York and Rhode Island. Citizens also can't legally own suppressors in the District of Columbia.
Do You Need a Class 3 to Buy a Suppressor?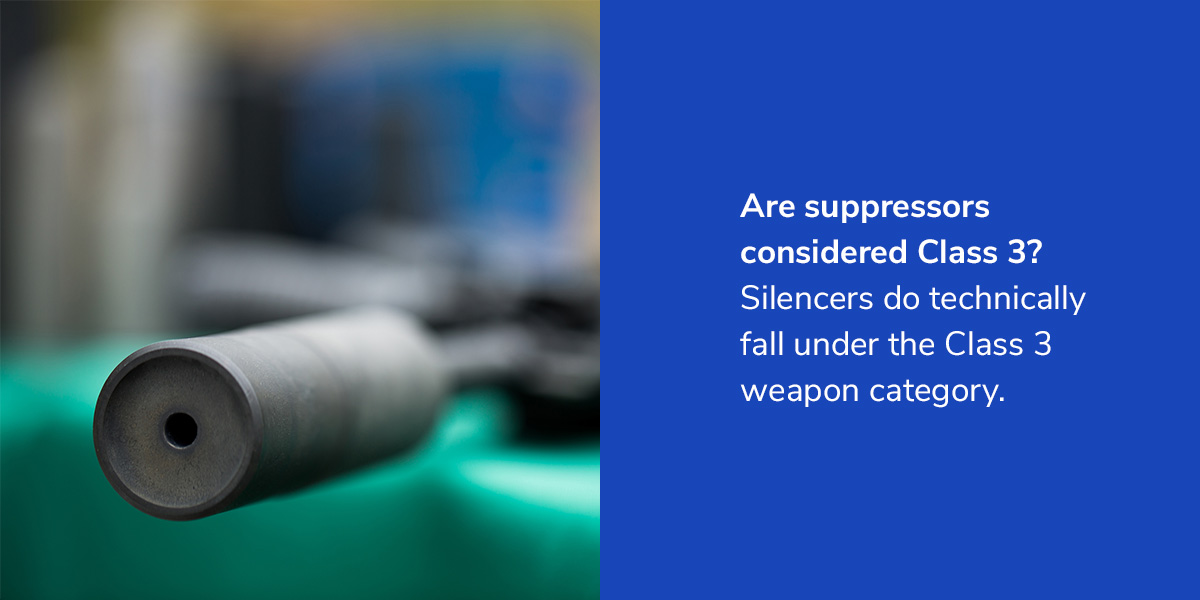 A common misconception is that you need a Class 3 license to own a silencer. That isn't the case. You don't need to acquire a special license, permit or certification to purchase and own a suppressor.
Are suppressors considered Class 3? Silencers do technically fall under the Class 3 weapon category. However, a Class 3 License allows dealers to sell NFA firearms — such as select machine guns, silencers and short-barreled shotguns and rifles — without paying a per-item tax. This license isn't a requirement for civilians to buy and possess silencers.
Do You Need Anything to Buy a Suppressor?
You'll need to purchase an approved tax stamp when buying a suppressor and any other item regulated under the NFA. This tax stamp is a federal tax that citizens must pay when submitting a Form 4 NFA transfer application to the ATF.
This tax is similar to paying sales tax on a purchase. However, it goes to the federal government rather than the state. The tax stamp is $200, but fortunately, no ongoing fees are required. You can pay the tax by check, credit or debit card or money order.
Filling out the Form 4 application is straightforward. You'll need to provide a series of personal information, including your fingerprints, a passport-style photo and demographic details.
You'll also specify whether you're filing as an individual, trust, corporation or other legal entity. Filing individually means only you can handle the suppressor. When filing as a corporation or trust, specified parties can use the silencer without you present. They can be added or removed at any time.
Do You Need a Tax Stamp for Every Suppressor You Buy?
Yes, you need to purchase a tax stamp for every suppressor you wish to buy. Every NFA-regulated item you own as an individual or with an entity requires a tax stamp.
Where Do You Submit Form 4?
You can submit Form 4 to the ATF's NFA division by mail. We recommend using certified mail to verify your form was delivered. Form 4 outlines the instructions to submit your paperwork.
Address: National Firearms Act Division
Bureau of Alcohol, Tobacco, Firearms and Explosives
P.O. Box 5015,
Portland, OR 97208-5015
Your part is done once you've submitted the application. You can then sit back and wait for ATF approval before purchasing your suppressor.
How Long Will It Take the ATF to Approve Your Form 4?
The processing time for ATF Form 4 can vary depending on a range of factors. Check the ATF website to see the current wait times for different forms. You can call the NFA branch at 304-616-4500 to get the status of your ATF Form 4 transfer.
Find and Use Suppressors at Keystone Shooting Center
Once you've taken the necessary steps to legally purchase a suppressor, find the right one for you at Keystone Shooting Center in Mars, Pennsylvania. Our superstore has hundreds of new and used firearm products to choose from. Our inventory includes suppressors from high-quality brands, such as Sig Sauer, SilencerCo, SureFire and more.
If you want to put your new suppressor to good use, our veteran-owned and operated, state-of-the-art shooting range boasts 24 climate-controlled lanes. We strive to offer a welcoming environment for every new shooter and seasoned marksman to feel comfortable.
Feel free to reserve a lane or walk right in to start honing your suppressor shooting skills. We also offer no-obligation, no-termination fee memberships with law enforcement and military discounts.
Additionally, our on-site kiosk allows you to take electronic fingerprints to purchase NFA items. That way, you can skip a trip to the courthouse to get fingerprints. Check out our selection of suppressors, then visit our shooting center to start breaking in your new silencer.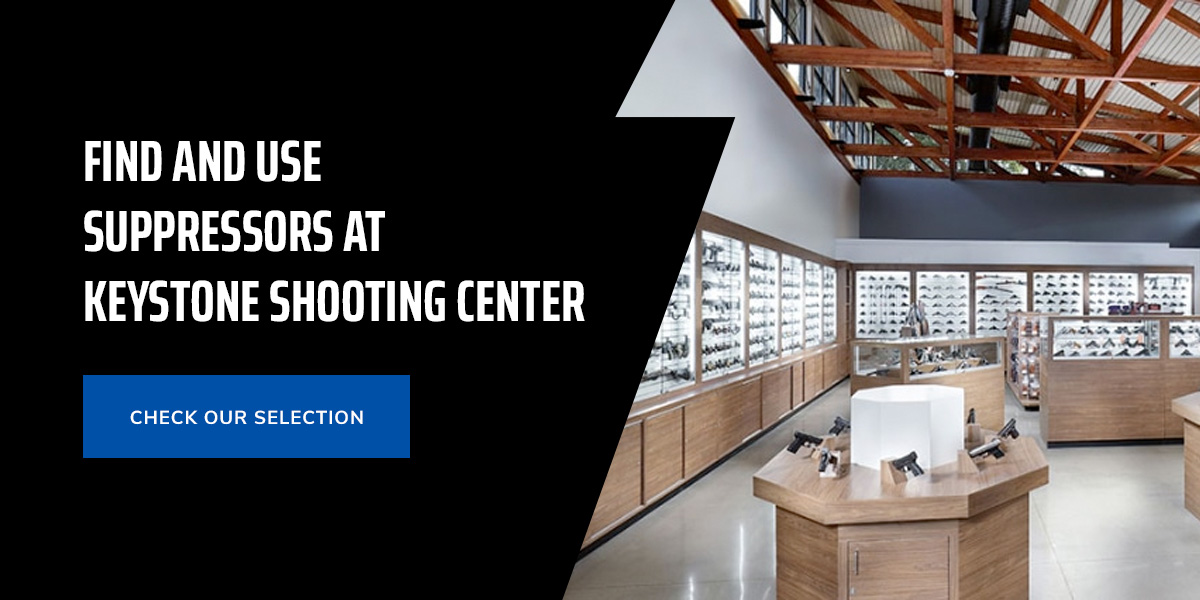 Last Updated on