Whether you need a handgun for self-defense, competitive shooting or just for fun, you'll want something with comfort and reliable performance. Consider the right size, weight and caliber for your needs, as well as something that's easy to operate and enjoyable to shoot.
While many of the best handguns for men can also be excellent handguns for women, women's guns should be slim enough for a comfortable grip and light enough for concealed carry. The top handguns for women are lightweight and compact yet powerful enough to get the job done, whether for target shooting, recreation or self-defense.
Top Handguns for Women:
Considerations for the Best Handguns for Women
There are several factors for women to consider when shopping for a handgun, including the size, weight and ease of use. Because women typically have less upper body strength and smaller hands, the best handguns are often compact and lightweight.
The caliber of a handgun significantly impacts how light or heavy the felt recoil will be. Many women prefer handguns chambered for smaller ammunition, as they generate less recoil while being more comfortable to shoot.
However, you should also take your intended use of the handgun into account. A self-defense handgun must be a sufficient caliber to protect the shooter while being light enough for comfortable shooting.
For concealed carry, a gun must be slim and lightweight enough to carry throughout the day without fatigue. A competitive shooting handgun should have a snappy trigger and a large enough magazine capacity.
The best handgun for a woman will depend on the shooter's personal preferences and needs. Keep these factors in mind as you search for your perfect handgun. To begin your search, we've gathered a few of the top handguns for women that offer excellent performance in a comfortable size and caliber.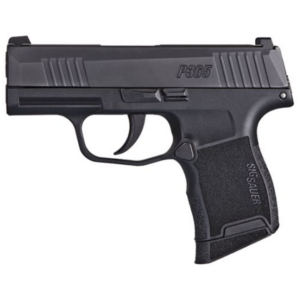 Beginning our list of the best handguns for women is the celebrated SIG P365. This micro-compact, slim 9mm pistol accommodates easy concealability, reliable performance and extended ammunition capacity.
The 1-inch wide grip of the SIG P365 is comfortable for small hands, while its 3.1-inch barrel provides improved shooting accuracy. With a stainless steel frame and slide, the SIG P365 weighs 17.8 ounces, making it lightweight yet well-balanced. This striker-fired pistol offers a clean and crisp trigger pull for enjoyable shooting.
However, the crowning feature of the SIG P365 is its extended capacity that holds 10 rounds while maintaining a smaller size than other micro-compact pistols. With an overall length of only 5.8 inches, the P365 is ideal if you're seeking a concealed carry weapon with an impressive punch.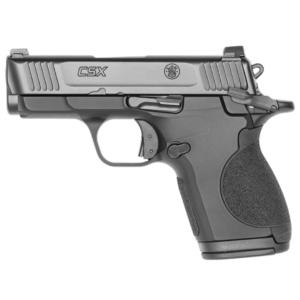 Chambered in 9mm with an overall length of 6.1 inches, the 2022 Smith & Wesson CSX features a 12+1 capacity with an additional 10-round magazine for enhanced concealment. Its aluminum alloy frame and interchangeable polymer backstraps allow you to tailor the pistol to your ergonomic fit and preferred concealment level.
Additionally, its external single-action hammer provides a clean, consistent trigger press. Designed with flexibility, sleekness, customization and ease of use in mind, the latest CSX is easily one of the best concealed carry guns for women.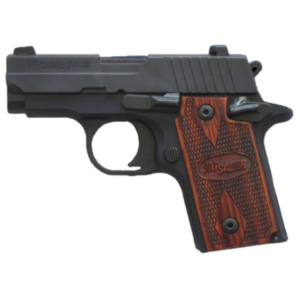 The SIG Sauer P238 is a great choice for women seeking a classic handgun style chambered for .380 ACP. It's modeled on an all-metal 1911 frame while weighing only 15.2 ounces. Its caliber and comfortable grip create lighter recoil, making it easy to handle and shoot.
However, its short barrel length of 2.7 inches can make accuracy more challenging for beginner shooters. Measuring only 5.5 inches overall, the SIG P238 is easy to conceal in a small bag or purse.
While more on the expensive side, the SIG P238 is a reliable pistol available in several colors and styles to suit any shooter. The SIG P238 is also easy to maintain, requiring no tools for field-stripping.
If you're looking for small guns for women, be sure to add the P238 to your list.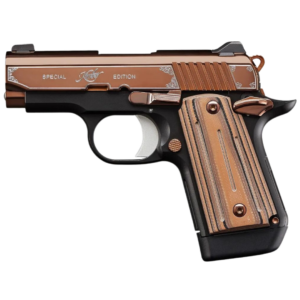 Kimber's Micro 9 is another great option for a compact handgun on a 1911 frame. Produced by one of the most well-known manufacturers of 1911 handguns, the Micro 9 features the signature short single-action trigger pull of a 1911 to improve accuracy and performance. It also offers a quick magazine release and easy reloading.
Weighing just 15.6 ounces and measuring 6.1 inches overall, the Kimber Micro 9 is designed for concealed carry. Its mild recoil and slim grip width make it comfortable to shoot for beginners and expert shooters alike. While the Micro 9 falls in a higher price range, it's built to last with a strong, durable stainless steel barrel and aluminum frame.
Purchase a Kimber Micro 9 today!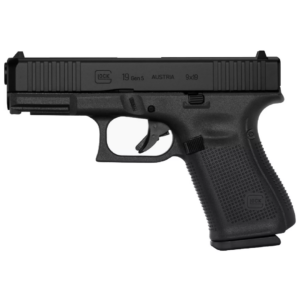 The widely popular Glock 19 is perfect for self-defense or competitive shooting. While heavier than other handguns on this list, it's still light enough to handle comfortably at 21.5 ounces without the magazine. With an overall length of 7.28 inches and a barrel length of 4.02 inches, the Glock 19 is small enough to carry concealed, yet large enough to shoot accurately.
The Generation 4 and 5 versions of the Glock 19 include a dual recoil spring system which provides a lighter felt recoil. The trigger pull weight is also relatively light at about 6 pounds, making the Glock 19 easy and enjoyable to use.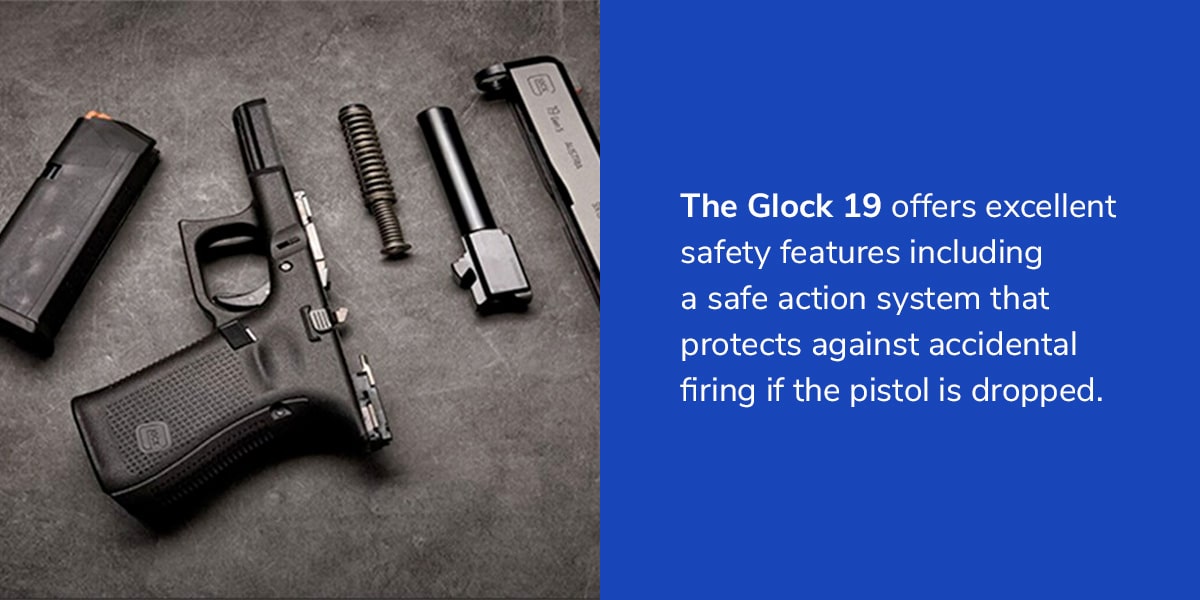 Because this gun operates with few controls and has a consistent trigger pull, new shooters can quickly feel comfortable firing it. The Glock 19 also offers excellent safety features including a safe action system that protects against accidental firing if the pistol is dropped.
Both the Gen 4 and 5 models offer a customizable grip size. The Glock 19's modular backstrap system allows the shooter to adjust the grip size easily to fit their hands comfortably.
The Glock 19 can be easily modified to fit right- or left-handed shooters. Because it's such a popular handgun, it's also easy to find grips, holsters and other accessories in various styles and colors to customize your pistol. For competitive shooters, the Glock 19 also offers an enlarged reversible magazine catch for faster reloading.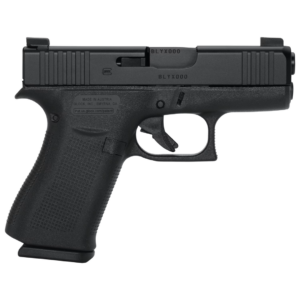 The Glock G19 is a reliable, durable pistol option. However, it's double-stacked, making it slightly larger around the grip. If you need something a little slimmer, you might consider the Glock 43X instead. With an overall length of 6.50 inches, this single-stack, 9mm pistol offers a more compact package without compromising the reliability Glock is known for.
The "X" designation has embellished several popular pistol models in recent years, including the 43X, which was released in 2019. This "X" usually indicates the pistol's frame remains unchanged, but an extra round capacity makes it all the more appealing as a defensive firearm. Its short trigger reach, slimline frame and lightweight design make it easy to conceal and one of the best guns for small hands.
If you enjoy the ease of use and reliability of the original 43, but you like the thought of 10 rounds of 9mm instead of six, the 43X may be for you. Just keep in mind you'll get a slightly longer and larger grip on the 43X than the 43.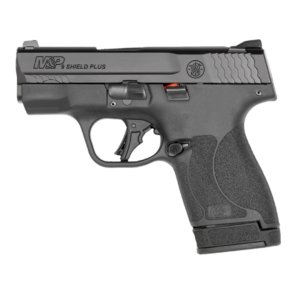 Smith & Wesson's M&P Shield is a lightweight and slim 9mm pistol that's easy to shoot and highly concealable. With a grip width of less than an inch, the Shield is perfect for shooters with smaller hands. The Shield also offers a longer grip height, resulting in a tighter grip, better recoil control and overall improved shooting accuracy.
The Shield features a corrosion-resistant polymer frame with a stainless steel chassis system. Weighing 20.8 ounces, the Shield is comfortable to carry all day. For long-term durability, the Shield's barrel and slide are coated with stainless steel.
As a striker-fired pistol, the S&W Shield offers a consistent and short trigger pull as well as an audible reset. For easier target acquisition, the Shield has a 5.3-inch sight radius. Priced in the $400 range, the Shield is an affordable option for a reliable 9mm pistol.
Purchase a S&W M&P Shield today!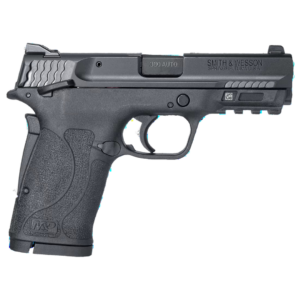 As its name suggests, the Smith & Wesson M&P 380 Shield EZ is designed for easy use and maintenance in every aspect. This .380 ACP handgun features an easy-to-load magazine and easy-to-rack slide, so beginners can comfortably shoot it in no time. The 380 Shield EZ can also be disassembled without pulling the trigger and is designed for easy cleaning.
Weighing 18.5 ounces and measuring 6.7 inches overall, the 380 Shield EZ is suitable for concealed carry or home protection. Its crisp trigger features an audible reset for more comfortable shooting, and its 3.7-inch barrel offers improved accuracy, making it a great choice for beginners or experienced shooters.
Purchase a S&W M&P 380 Shield EZ today!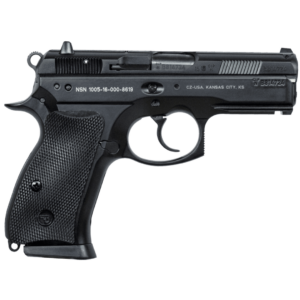 Featuring a compact design and smaller stature, the 9mm CZ P-01 is another great concealed carry option for women, despite originally created for military and law enforcement use. This hammer-fired pistol features a decocker, 14+1 round capacity and 1913 Picatinny rail for accessories.
Combining balance, control, combat accuracy and reliability, the CZ P-01 is a great all-around use pistol. While they can run a bit pricier than Glocks and other manufacturers, you'll likely find they're worth it. However, the P-01's overall length of 7.17 inches makes it slightly more challenging to pocket carry, so you may want to invest in a comfortable holster or bag if you don't already have one.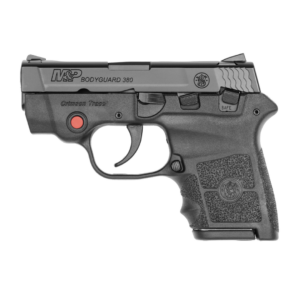 Chambered for .380 ACP, the S&W Bodyguard 380 is ultra-lightweight and easily concealable. Despite weighing just 12.3 ounces, the Bodyguard 380 is still a powerful self-defense pistol when loaded with quality ammunition.
The handgun measures 5.3 inches overall, making it a great concealed carry choice. Its ultra-slim 0.77-inch grip width is ideal for small hands, and the magazine provides an extended finger grip for a more reliable hold.
The 9.5-pound trigger pull weight of the Bodyguard 380 can be challenging for some shooters but adds a level of protection against accidental firing. Although it has a short 2.75-inch barrel, its lighter caliber makes the Bodyguard 380 easy to control and aim accurately.
Purchase a S&W M&P Bodyguard 380!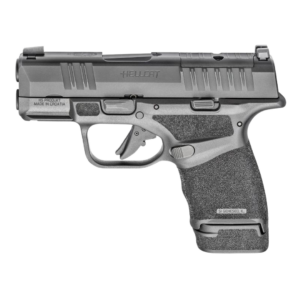 Given its microsized grip, 6-inch overall length, and a patented magazine with an impressive 11+1 and 13+1 capacity, it's no surprise the Springfield Armory Hellcat was one of the best-selling handguns of 2021.
While some users have reported some snappy recoil and slight slide tension, this highly concealable gun is still a top choice for everyday carry and range practice. It's also equipped with high visibility sights and optics-ready OSP™ configuration, making it a great women's pistol for self-defense. Plus, it's the world's highest-capacity micro-compact gun.
Purchase a Springfield Armory Hellcat!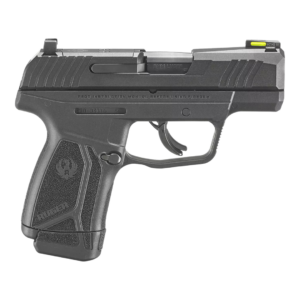 Last but certainly not least, the Ruger MAX-9 is a micro-sized, semi-automatic pistol with a smooth trigger pull and clean break. With an overall length of 6 inches, it's easy and comfortable to conceal in a pocket or inside-the-waistband holster, offering multiple ways to carry.
Despite its slim, compact and lightweight design, it offers a powerful capacity of up to 12+1 9mm rounds. The MAX-9's medium-textured grip frame allows for a secure and comfortable hold. It also has a rugged alloy steel construction, giving it the perfect balance of sleek beauty and high performance.
Try a Handgun at Keystone Shooting Center Before You Buy
With so many models and styles available, it's essential to test out any handguns you're considering. At Keystone Shooting Center, we offer more than 100 rental guns so you can put a handgun to the test before making a purchase.
Our rental inventory includes some of the best handguns for women, featuring popular models from top brands like SIG Sauer, Glock, Smith & Wesson and more. Our indoor shooting range is clean and climate-controlled, with competitive prices and flexible services for every shooter from beginners to professionals.
When you find a handgun you love, you can make it your own when you purchase from Keystone Shooting Center's gun superstore. With over 500 new firearms available in many calibers and sizes, you're sure to find the right handgun for you. Contact us to book a range or learn more about handguns for rent or purchase at Keystone Shooting Center.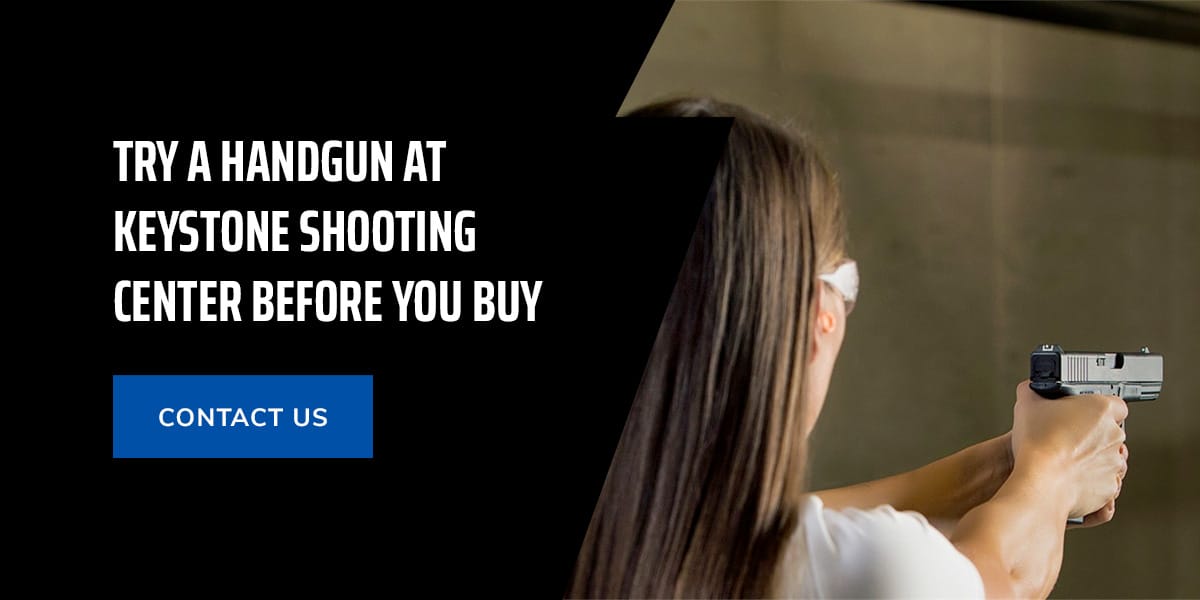 Last Updated on