Special Events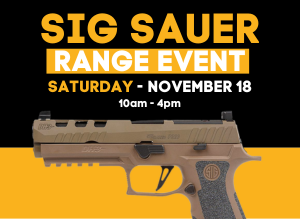 Sig Sauer Event
Sig Sauer is coming to Keystone Shooting Center. Join us the week before Black Friday for the Sig Sauer Range Event. Test out over 30 of Sig Sauer's products on our range. One lucky winner who takes part in the Sig Sauer Event or Black Friday, will win a Sig Sauer P320-XFIVE DH3.
Learn More
Beautiful facility with an amazing retail area. The staff is very friendly and knowledgable; the customer service was excellent. I really enjoyed the bay I used, and it's amazing how clean they keep the bay areas! Great experience for this first-time visitor. This fellow local small business owner is already looking forward to returning!
Heidi H.
view more testimonials
stay on
target
Stay up to date with everything Keystone Shooting Center has going on right in your inbox.