Special Events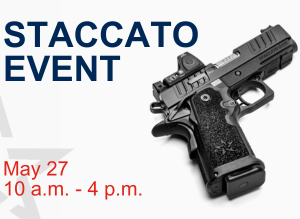 Staccato Event
Experience Staccato. Come see the inventors of the 2011 on Saturday May 27th at Keystone Shooting Center. Learn about Staccatos lineup of incredible 2011 firearms as well as test them out yourself. The Staccato 2011 is in a class of its own, come join the Staccato Family at this event.
Learn More
Very modern and welcoming gun shop, I came here originally for gunsmith services which were top notch and very reasonably priced, I highly recommend this place for first time gun owners as it has everything you need from firearms for any budget, classes to help with responsible ownership and an indoor range to learn the basics and more, staff is extremely friendly helpful and knowledgeable and the store is spotless top to bottom I hope this place grows and expands as it makes a great impression on the second amendment, I'm glad this place is 40 minutes away because I feel like a kid in a candy store and would be broke in no time
Thomas S
view more testimonials
stay on
target
Stay up to date with everything Keystone Shooting Center has going on right in your inbox.