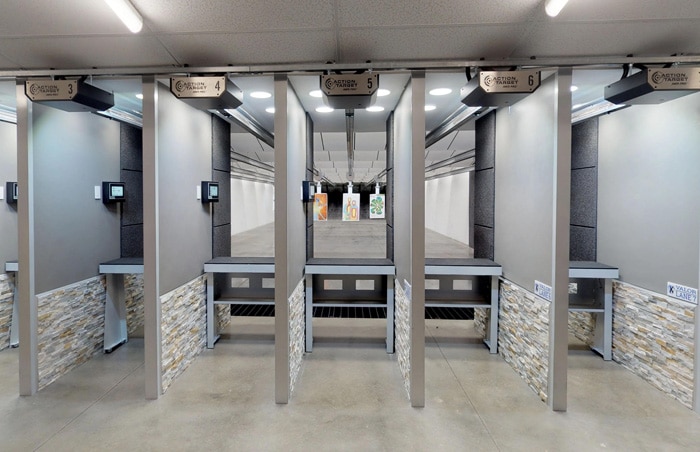 near Pittsburgh, PA
Gun Range That Rents Premium Guns
If you don't own a firearm or want to try something new, it can be challenging to find an accommodating shooting range that offers the gun rental you need. If you're looking for a thrilling day at the shooting range and need the right gun to make your experience perfect, shoot in style with Keystone Shooting Center's selection of unique gun rentals.
We offer competitive rates on all premium rental equipment for both members and walk-in customers. We also have hearing protection rentals available for $3 and eye protection purchases for $2.
Due to legal requirements, you'll need to use ammo provided by Keystone Shooting Center while renting a premium gun.
Reserve Range Time
What Is a Premium Gun?
At Keystone Shooting Center, we're committed to offering one-of-a-kind experiences you won't forget, and this commitment extends to the types of guns we offer for rent. Our premium gun selection is composed of an assortment of unique firearms that bring top quality and heart-pounding adventure to the shooting range.
We offer unique guns from some of today's most trusted and revered manufacturers from around the world, such as Beretta, Glock, Sig Sauer, CZ, Benelli, H&K, Smith & Wesson, Kimber, Colt, FN and more. These top-class guns are among the smoothest, most reliable and most intricate firearms in the business — you'll be amazed by each shot you take.
Types of Unique Gun Rentals Available
We understand that every shooter has different requirements to meet when choosing a rental firearm. You want an exceptional gun that you feel confident holding and shooting, which is why you'll find a wide range of styles, types and configurations among our selection of premium equipment:
Configurations: Whether you prefer the one-handed convenience of a pistol or the enhanced accuracy of a rifle, you'll find a premium gun with your desired configuration. We offer premium handguns, revolvers and rifles in our selection.
Calibers: Choose from several calibers suited to nearly any comfort level — whether you want a 9mm with low recoil or something with more of a kick. Our unique selection includes .45, .454, .50, 9mm and 5.56 calibers.
Types: We also offer various types of guns for your convenience, including full-size, compact and carbine.
Manufacturers in our current premium selection include:
Magnum Research: Desert Eagle, Desert Eagle — Gold
Sig Sauer: 1911 Nightmare, MK25 with suppressor, MPX Carbine, P220 Legion, P226 Legion and P229 Legion
Whether you're a first-time shooter or an expert in the sport, we offer a gun to meet your needs. If you need help choosing the right configuration, type or caliber for you, one of our knowledgeable staff will be happy to help you make the best selection.
Enjoy a Unique Gun Rental Experience at Our Indoor Shooting Range and Superstore
Enjoy your premium gun rental at one of the finest shooting destinations in the country. You'll shoot your rented premium gun in one of 24 indoor, climate-controlled bays that feature a state-of-the-art HVAC system. A HEPA filtering system then filters the air to deliver 100 percent clean air to each shooter, ensuring the best shooting environment. These 25-yard lanes are both pistol- and rifle-friendly and are welcome to both members and walk-ins.
If you love the look and feel of your rental gun after spending the day at the range, why not add it to your permanent firearms collection? We have more than 500 new and used guns available for sale, including the same models as our premium gun rentals. Try out a new firearm among our rental selection, then buy one for yourself at our world-class superstore.
With Premium Gun Rentals Near Pittsburgh
Visit a World-Class Shooting Range
Experience the thrill of a world-class gun range — even without your own gun — with a unique gun rental from veteran-owned Keystone Shooting Center. As one of the top shooting ranges with premium gun rentals in the nation, we're fully equipped to provide both beginners and expert shooters an experience they won't forget.
Our priority is your safety and satisfaction throughout your time at the range. Each lane features bulletproof glass and steel partitions and is supervised by a certified Range Safety Officer. No matter how new you might be to the shooting sports, you'll remain completely safe as you experience the excitement only a top-tier gun range can provide.
Stop by Keystone Shooting Center today to discover the blood-pumping thrill of shooting a premium firearm. If you have any questions, feel free to contact us at (412) 357-8000 .
Beautiful facility with an amazing retail area. The staff is very friendly and knowledgable; the customer service was excellent. I really enjoyed the bay I used, and it's amazing how clean they keep the bay areas! Great experience for this first-time visitor. This fellow local small business owner is already looking forward to returning!
Heidi H.
view more testimonials
stay on
target
Stay up to date with everything Keystone Shooting Center has going on right in your inbox.
Hours:
Monday - Friday: 10AM - 8PM
Saturday: 10AM-9PM
Sunday: 10AM - 6PM