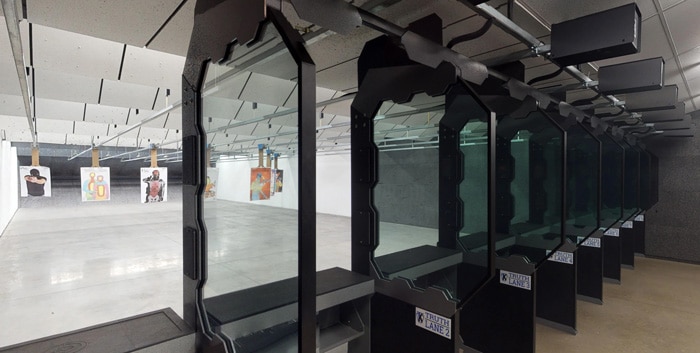 SHOOTING RANGE NEAR PITTSBURGH WITH
FULL-AUTO RENTALS
Honing your skills at a gun range is an unforgettable way to have a blast and blow off steam. What better way to make your experience even more memorable than renting a machine gun at your local shooting range? At Keystone Shooting Center in Pittsburgh, we offer a vast selection of fully automatic gun rentals for both the gun enthusiast and first-time shooter to enjoy.
Reserve Range Time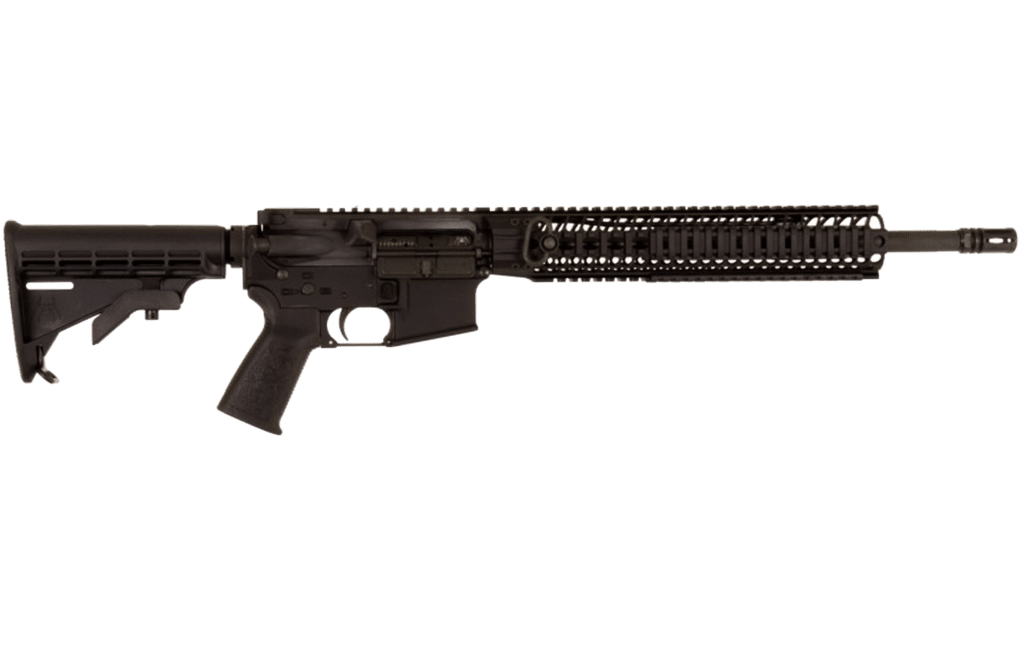 Spikes Tactical ST-15
Rental Price $69.99 Includes 50rds.
Manufacturer: Spikes Tactical
Caliber: 5.56
Capacity: 30+
Rental Class: Automatic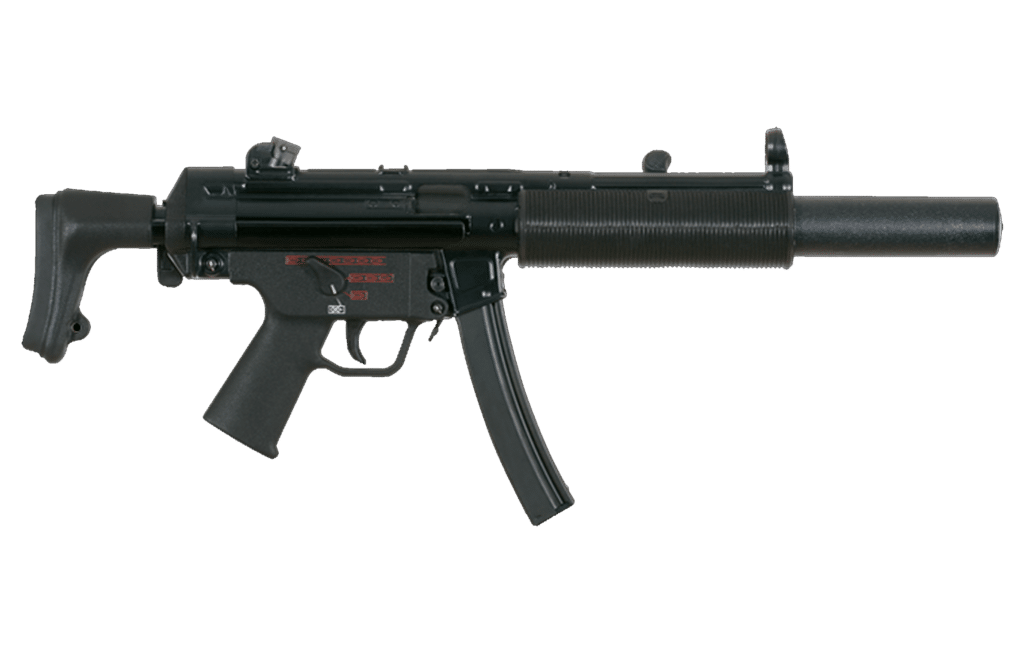 H&K MP5 SD
Rental Price $69.99 Includes 50rds.
Manufacturer: H&K
Caliber: 9mm
Capacity: 30+
Rental Class: Automatic
Silence Mode
In developing the silenced MP5SD, Heckler & Koch responded to the special requirements of special forces units.
Despite its integrated silencer element, it has the same length and shape as an unsilenced submachine gun. Unlike most conventional silenced submachine guns, it fires standard ammunition types with the same effect. The use of special subsonic ammunition is not necessary. The integrated silencer element suppresses the muzzle flash extremely effectively, as a result of which the weapon is also excellent for night operations using low-light amplifiers. No wonder the MP5SD is one of the most accurate silenced submachine guns of its type.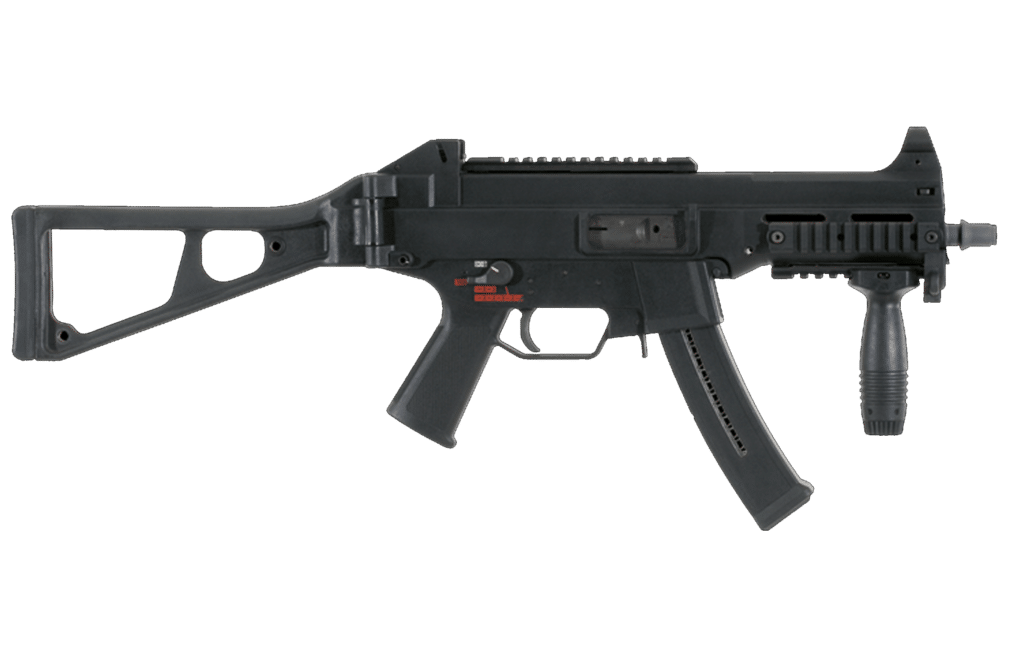 H&K UMP .45
Rental Price $69.99 Includes 50rds.
Manufacturer: H&K
Caliber: .45ACP
Capacity: 30+:
Rental Class: Automatic
With the UMP, Heckler & Koch has developed a versatile submachine gun the likes of which did not exist before on the world market. A weapon that can cover three calibres simply by exchanging a few assemblies: 9 mm x 19, .40 S&W and .45 ACP.
The UMP combines top-rate performance with simple handling and high safety standards. The modular fibre-reinforced polymer receiver guarantees the necessary ruggedness with minimised overall weight. As a typical member of the HK family of weapons, the UMP is a highly-effective, economical alternative for military and law enforcement applications.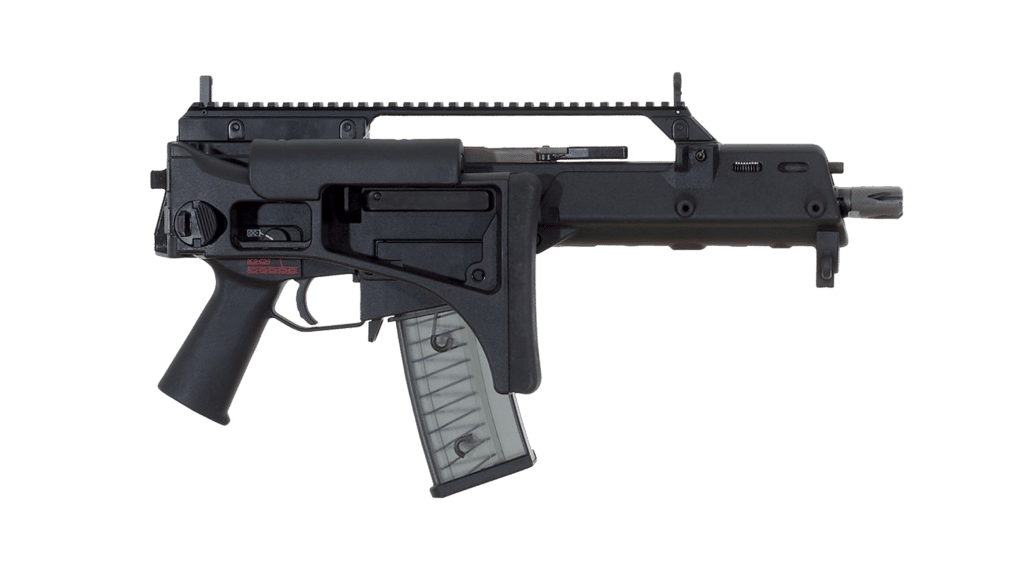 H&K G36C
Rental Price $69.99 Includes 50rds.
Manufacturer: H&K
Caliber: 5.56
Capacity: 30+:
Rental Class: Full Auto
With its short 8.98 inch (228 mm) barrel and buttstock folded, the G36C (compact carbine) has an overall length of less than 20 inches— shorter that an MP5 submachine gun. It is the perfect 5.56 mm weapon for use in confined areas such as a vehicle. The G36C can even be fired with its buttstock folded. With the installation of an HK G36 magazine conversion magazine well, the G36C can use widely available AR/M16/M4 type magazines.
Optional accessories, including laser aimers and weapon lights can be mounted on MIL-STD-1913 Picatinny rails that attach to hard points (at the 3, 6, 9 o'clock positions) on the weapon's free-floating handguard. Optical sights can be easily installed on the MIL-STD-1913 Picatinny rail on the top of the receiver. Several accessory buttstocks are also available, including stocks adjustable for length-of-pull and cheekpiece height.
Developed by Heckler & Koch in the mid 1990s, the G36 is a true modular weapon system in caliber 5.56 x 45mm NATO (.223 Remington). Constructed almost entirely of a tough, carbon fiber reinforced polymer material and using a simple, clean shooting, self-regulating, operating rod gas system; the G36 provides the user with a lightweight weapon that delivers high performance with extremely low maintenance.
The G36 uses an HK-proprietary operating system found on several current Heckler & Koch arms, including the HK416. The G36 gas system uses a piston to drive an operating rod to control the function of the bolt, preventing propellant gases and the associated carbon fouling from entering the weapon's interior. This increases the reliability of the weapon and extends the interval between stoppages. It also reduces operator cleaning time, heat transfer to the bolt and bolt carrier, and wear and tear on critical components.
All G36 variants use a barrel produced by Heckler & Koch's famous cold hammer forging process; further improving reliability, service life, and operator safety during obstructed bore occurrences or in extreme extended firing sessions.
The barrel of any G36 variant can be exchanged by a unit armorer to create a rifle, carbine, or compact carbine, using the same common receiver. Exhaustively tested and currently fielded with the German and Spanish Armed Forces the G36 is also used by military, law enforcement, and government customers of more than 40 countries.
Principal configurations of the G36C (Compact Carbine) 5.56 x 45 mm available from HK-USA include the following (all supplied with short Picatinny rail, adjustable iron sights, sling, and one 30-round magazine):
702251-A5 G36C (SF) 5.56 x 45 mm Single-Fire Machine Gun, w/ SF trigger group
218433-A5 G36C (NT) 5.56 x 45 mm Select-Fire Machine Gun, w/ Navy trigger group
702252-A5 G36C (012) 5.56 x 45 mm Select-Fire Machine Gun, w/ 012 trigger group
702250-A5 G36C (2RB) 5.56 x 45 mm Select-Fire Machine Gun, w/ 2-round burst trigger group
G36 Trigger Groups (All trigger have ambidextrous selector levers)
SEF…0-1-D trigger group  (Safe, Semi-automatic, Full Automatic)
SF…0-1 trigger group (Single Fire i.e. Safe, Semi-automatic)
012 …0-1-2 (Safe, Semi-automatic, 2-Round burst)
01D…0-1-D (Safe, Semi-automatic, Full Automatic)
012D…0-1-2-D (Safe, Semi-automatic, 2-Round burst , Full Automatic)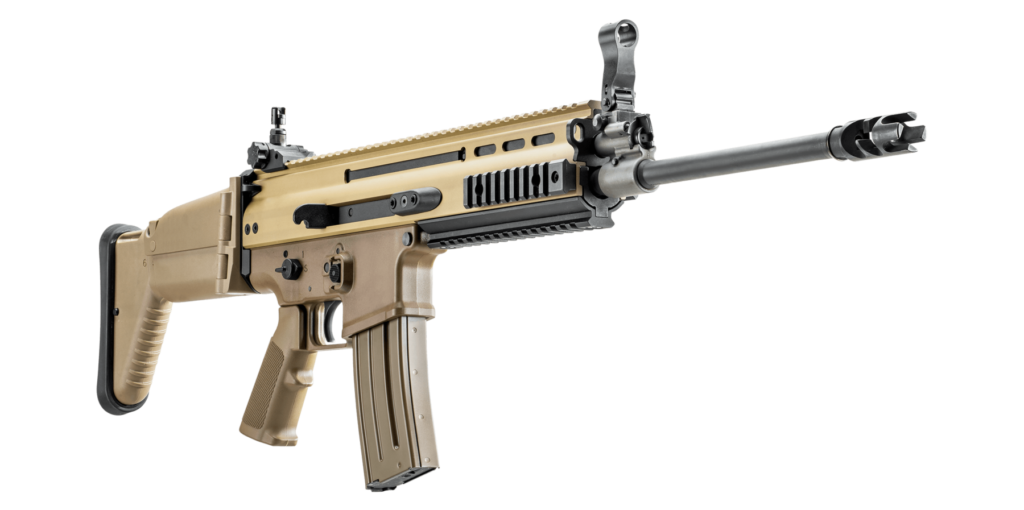 FN SCAR 16S
Currently Unavailable
Manufacturer: FN
Caliber: 5.56
Capacity: 30+:

The FN SCAR® 16S is the semi-automatic version of the US Military's MK 16. Light, fast-handling and quick shooting, the FN SCAR® 16S is chambered in 5.56x45mm and features a free-floating, cold hammer-forged MIL-SPEC barrel with chrome-lined bore and chamber.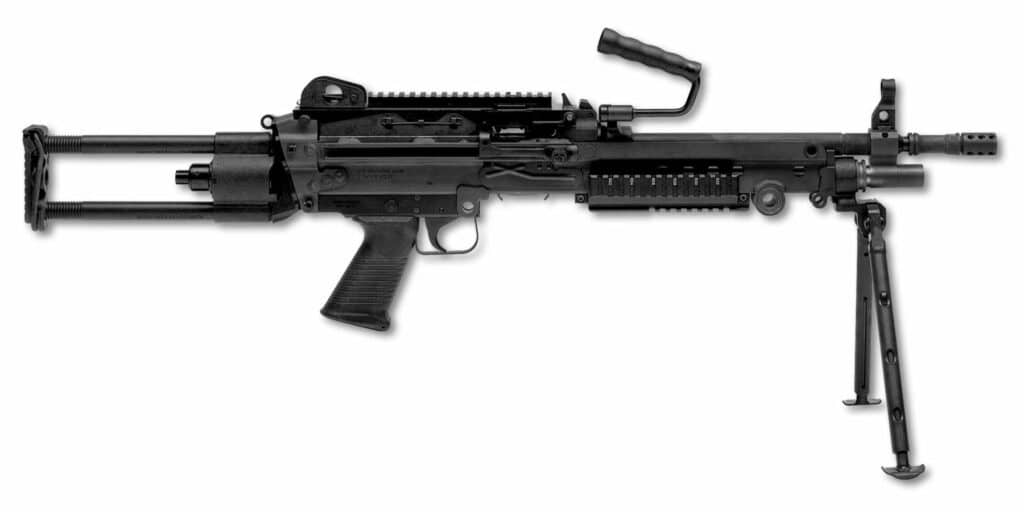 FN M249 Para SAW Machine Gun
Rental Price: $89.99
Manufacturer: FN
Caliber: 5.56mm
Capacity: 30+1:
Rental Class: Premium
Includes 50 rounds.
The FN® M249 SAW (also known as the FN MINIMI®) has been a mainstay throughout the U.S. military since 1986 and is currently in service in more than 30 countries. The M249 SAW is designed to be used on the front lines where it really matters, providing crucial support at the infantry squad/fire team level by providing highly accurate fire plus the maneuverability to take the objective. The ergonomically shaped polymer buttstock contains a hydraulic buffer that allows SAW gunners to maintain a high rate of fire with accuracy and effect.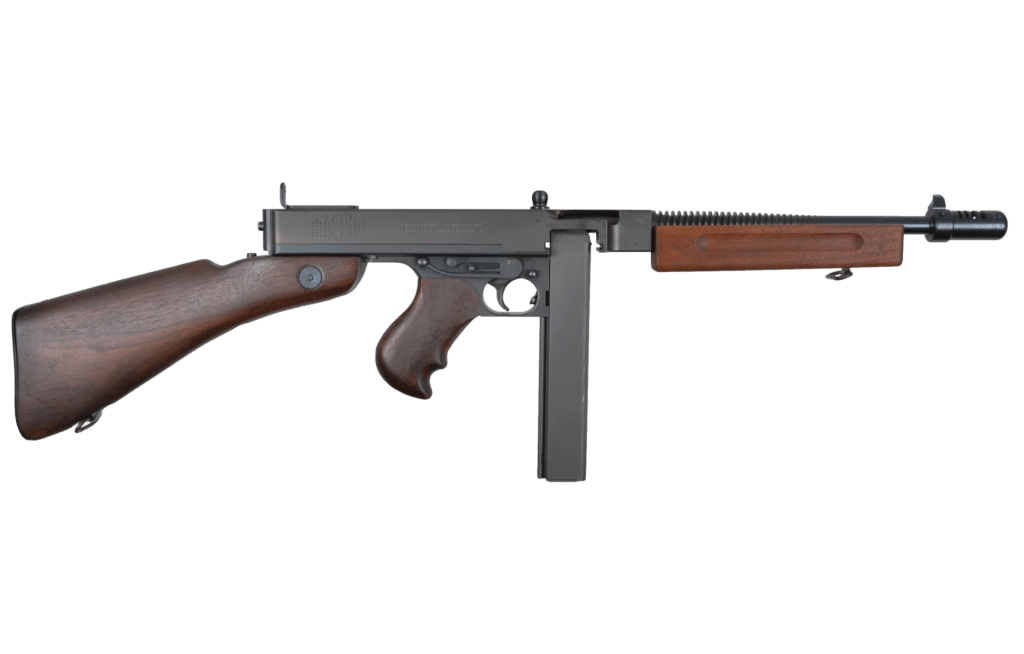 Thompson M1928A1 Submachine Gun
Rental Price $69.99 Includes 25rds.
Manufacturer: Thompson
Caliber: .45ACP
Capacity: 20+
Rental Class: Full Automatic
The Thompson (often referred to as Thompson submachine gun) is an American submachine gun, invented by John T. Thompson in 1919, that became infamous during the Prohibition era. It was a common sight in the media of the time, being used by both law enforcement officers and criminals. The Thompson was also known informally as: the "Tommy Gun", "Trench Broom", "Trench Sweeper", "Chicago Typewriter", "Chicago Piano", "Chicago Style", "Chicago Organ Grinder", and "The Chopper".
The Thompson was favored by soldiers, criminals, police and civilians alike for its ergonomics, compactness, large .45 ACP cartridge, reliability, and high volume of automatic fire. It has since gained popularity among civilian collectors for its historical significance.
Shop Products From Thompson Center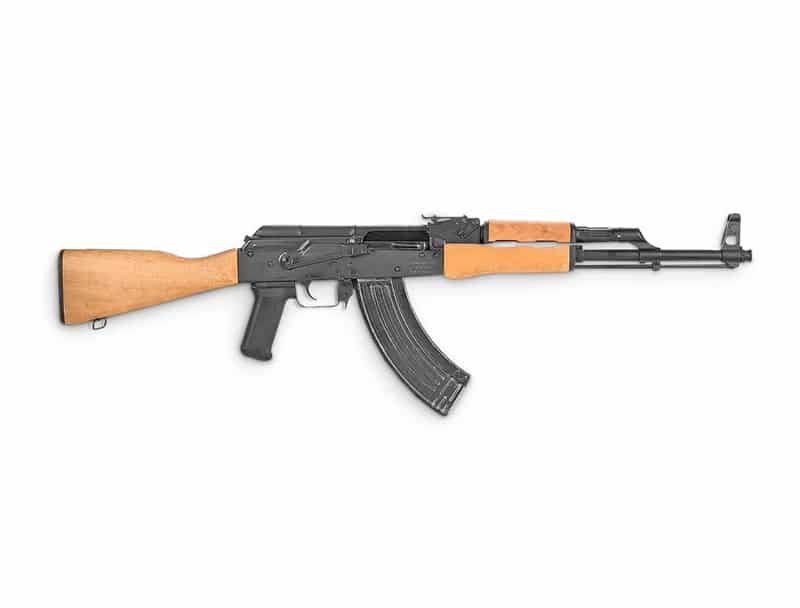 Century Arms AK-47 WASR-10
Currently Unavailable
Caliber: 7.62 x 39
Rental Class: Automatic Weapon
Type: Assault Rifle
TYPES OF AVAILABLE FULLY AUTOMATIC GUN RENTALS
Ready to try the full-auto experience for yourself? Keystone Shooting Center offers a wide range of assault rifle and machine gun rentals for your enjoyment. Each of our fully automatic guns is guaranteed to give you a thrilling experience like no other. Our Full Auto Rentals are available to everyone 21 years or older.  Choose from eight leading full-auto weapons, including:
AK-47: The AK-47 – the world's most popular assault rifle – is exceptionally reliable and easy to use, even for beginners. It offers a simple firing mechanism that rarely jams, and it's known for its long service life.
FN M249: A classic in U.S. military operations, the FN M249 features an ergonomic shape, high rate of fire and high accuracy.
H&K G36C: The G36 is a large firearm that boasts high accuracy, reliability and easy assembly. The controls are smooth to operate for both left- and right-handed shooters, and the gun is light enough to remain comfortable for hours.
H&K MP5: The MP5 is a compact submachine gun that combines durability, controllability and high accuracy. With a smooth recoil and an ambidextrous selector switch, this firearm is easily operable for nearly any user.
M4: The M4 Carbine is now standard-issue in U.S. military operations. This lightweight model features a short barrel capable of hitting targets at extended ranges, and it's ideal for close-quarters operation.
FN SCAR 16S: The SCAR 16S uses large, ambidextrous controls for a comfortable shooting experience. The model is highly reliable and features minimal recoil, which makes it an excellent first fully automatic firearm for many shooters.
Thompson M1928a1: An iconic submachine gun with a rich history, the Thompson M1928a1 offers a light recoil, high accuracy and simple controls.
H&K UMP .45: Featuring easy-to-use ambidextrous controls and simple handling, the UMP is a versatile submachine gun. Its low weight and high effectiveness make it a favorite among many new and experienced shooters.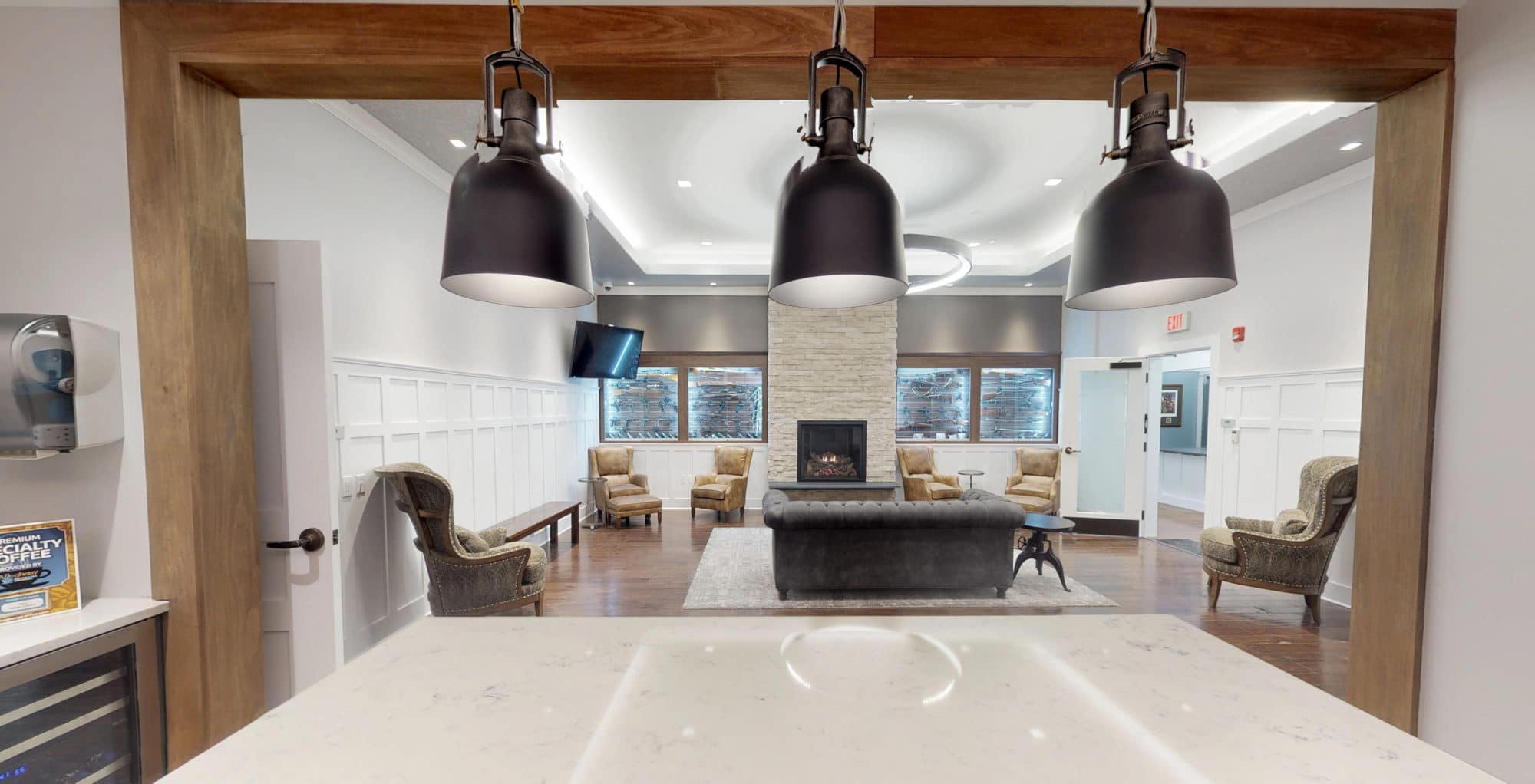 Near Pittsburgh
Visit a World-Class Machine Gun Shooting Range
Get the thrill of full-auto shooting at one of the top shooting destinations in the country. Veteran-owned and -operated Keystone Shooting Center — conveniently located in Mars, PA — offers a unique experience for beginners and seasoned shooters alike. Shooting a fully automatic gun rental at our world-class range is an adventure you won't forget.
With a large selection of assault rifle and machine gun rentals, climate-controlled lanes and full Range Safety Officer supervision, we do everything we can to make your safety and satisfaction our top priority. Our trained staff will guide you through the ins and outs of shooting a full-auto firearm and answer any questions you might have before and during your experience.
See why we've been voted a Pittsburgh Fan Favorite in less than one year of business — stop by our facility and treat yourself to a fully automatic gun rental. If you have any questions about our center or selection, feel free to contact us at (412) 357-8000.
Must be 21 years or older to use a Full Auto Rental.
Great place to shoot your own gun or try a new one from their selection of rentable firearms(including fully automatic weapons). They have a very nice range and a couple rentable party rooms. Huge selection of pistols, rifles, knives and attachments and accessories for all. I will definately be returning with my friends. This was one of the first ranges in the area I chose to go to and I seems like this may be the only one I will be going to in the future. It doesn't get much better than this.
Austin P.
view more testimonials
stay on
target
Stay up to date with everything Keystone Shooting Center has going on right in your inbox.
Hours:
Monday - Friday: 10AM - 8PM
Saturday: 10AM-9PM
Sunday: 10AM - 6PM