NSSF First Shot Program
Never shot a gun before? You've come to the right place!
Do you want to experience the thrill of shooting but not sure where to start? Do you want to learn how to shoot in a relaxed environment with other first time shooters? Joins us at Keystone Shooting Center on February 27th, 2020 to experience your First Shots® with our NSSF First Shots Event. We will teach you how to shoot and we even offer a reward for attending the event! To join us, sign up now using the link below!
NSSF First Shots Program is for those of who have never shot a firearm before or want to start from the beginning! This program is a two hour course taught by a trained professional to offer yo a comprehensive and safe first firearm experience. The NSSF First Shots Program will last one hour in the classroom and followed by an hour on the range! In this class you will learn the basics in a classroom and experience some time on the range. In this class you are provided with: eye protection, ear protection, ammunition, targets, course outline, & a .22 caliber rental firearm. You will be guided through the course material in a way that is safe and fun! This is a great option for children and adults.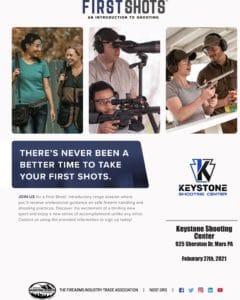 SIGN UP NOW: